Collaborators
WMU Homer Stryker M.D. School of Medicine is a collaboration involving Western Michigan University and Kalamazoo's two teaching hospitals, Borgess Health and Bronson Healthcare.
Nationally Recognized University
Western Michigan University (WMU), founded in 1903, rapidly grew from a regional teachers college to an internationally regarded institution of higher education. WMU is a dynamic, student-centered research university with an enrollment of 25,000 students. The university's mission statement defines its purpose: "Western Michigan University is a learner-centered, research university, building intellectual inquiry and discovery into undergraduate, graduate, and professional programs in a way that fosters knowledge and innovation, and transforms wisdom into action. As a public university, WMU provides leadership in teaching, research, learning, and service, and is committed to enhancing the future of our global citizenry." The university vision defines its future direction: "Nationally and internationally recognized, the University aspires to distinguish itself as learner centered, discovery driven, and globally engaged." The Carnegie Foundation for the Advancement of Teaching places WMU among just 139 public institutions in the nation designated as research universities and only one of five in Michigan (WMU, University of Michigan, Michigan State University, Wayne State University and Michigan Technological University). U.S. News & World Report's annual ranking of American colleges and universities includes WMU as one of the nation's top-100 public universities. WMU is Michigan's fourth largest research university, attracting a diverse and culturally rich student body from across the United States and 1,400 students from 92 countries throughout the world. Its nearly 900 full-time faculty members have been educated at some of the world's finest institutions, bringing to the University a global perspective that enhances the learning environment.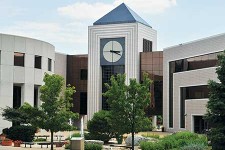 Nationally Recognized Hospitals
Borgess Health and Bronson Healthcare are both nationally recognized health care organizations that provide a wide spectrum of sophisticated inpatient and outpatient services.
Borgess Health (Borgess) is a health care organization located in southwest Michigan and is part of Ascension Health, the largest non-profit health care system in the United States. Borgess operates more than 120 sites of care in 15 southern Michigan cities, as well as five owned or affiliated hospitals, a nursing home, ambulatory care facilities, home health care, and physician practices. The Borgess flagship hospital, Borgess Medical Center is a 424-bed tertiary care hospital offering more than 40 clinical specialties. Borgess is a national leader in cardiovascular care. The health ministry was a very early adopter of balloon angioplasty and open-heart surgery. Click here for quick facts about Borgess Health.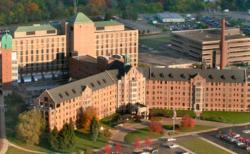 Bronson Healthcare (Bronson) is a not-for-profit, community-governed health care system headquartered in Kalamazoo. With 8600 employees, Bronson is the largest employer in southwest Michigan. Bronson offers a full range of services from primary care to critical care across more than 70 locations. The flagship of the Bronson system, Bronson Methodist Hospital with 405 beds, is the only hospital in the nation to have achieved all three of these honors: the 2005 Malcolm Baldrige National Quality Award, selection in 2009 as the AHA-McKesson Quest for Quality Prize recipient, and designation as a Magnet Hospital for Nursing Excellence. Click here for quick facts about Bronson Healthcare.