Future Medical Students
Office of Admissions
Welcome to the Western Michigan University Homer Stryker M.D. School of Medicine Office of Admissions.
Our goal is to admit students from across the nation who have demonstrated academic excellence as an undergraduate. We are looking for students who: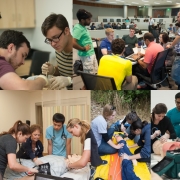 can work together as a team,
know how to problem solve,
demonstrate compassion and a dedication to serve others,
communicate effectively,
and make decisions with integrity.
We value the unique qualities and life experiences that each person possesses. Our application process is designed to highlight these qualities and experiences. We're looking forward to learning about students' backgrounds and their goals for the future. Our medical school graduates will be prepared to excel in any chosen specialty field. Our goal is for our medical students to realize their individual potential for greatness.
We have preferred relationships with Western Michigan University and Kalamazoo College. We seek to admit outstanding students from these institutions into each entering medical school class. Applicants from these institutions apply through AMCAS, are selected through the regular selection process, and must meet all admission requirements.
.