The medical school strategic plan provides focus and direction for the organization from 2014 to 2018 including the institutional mission, values, vision, strategies, and goals.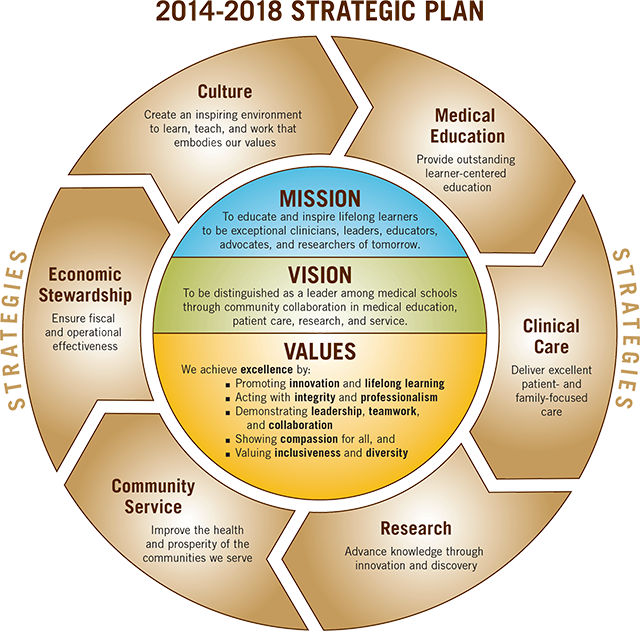 Strategic Planning
The planning process to develop the medical school's 2014-18 strategic plan was approved by the Board of Directors in February 2012. The process began in 2013 with Dean Hal Jenson, MD hosting 35 meetings with more than 520 participants including staff, faculty, residents, board members, hospital leaders, and community physicians. Input gathered from these key stakeholders was included in the strategic plan development. In the fall of 2013, the medical school leadership team participated in three all-day planning retreats to develop the strategic plan that includes the mission, values, vision, strategies, focus areas, and goals for the medical school. Strategy teams met in early 2014 to identify the annual objectives, actions, timelines, and resources that support achievement of the strategic goals. In May 2014, the Board of Directors approved the 2014-18 strategic plan and the annual 2014-15 objectives. The key elements of the strategic plan (mission, vision, values, strategies, focus areas, goals) will remain constant from 2014 through 2018. Annually, new objectives and actions are developed to support each organizational goal.
Accomplishing Our Plans
To ensure that the strategic plan is accomplished, the objectives and actions are incorporated as the annual performance goals for the individuals or teams who are responsible. On a quarterly basis, a strategic plan status report is reviewed by the Dean's Cabinet to ensure the organization is on track and making progress. Half-day planning retreats are held in the winter and spring for the entire leadership team to discuss the plan progress and to develop the new objectives and actions for the coming year. Regular strategic plan updates are provided to the Board of Directors.