In the Department of Emergency Medicine, we have an active, ongoing program that provides ample opportunities for our students, residents, and fellows to participate in research and scholarly activities. Together, we offer experiences that enable discovery and promote creativity, and we are committed to pursuing inquiry, disseminating knowledge, and fostering critical thinking that encourages lifelong learning.
Our residency curriculum includes the principles of research design, methodology, biostatistics and analysis, and the ethical principles of clinical and translational research. Many of our residents' projects are presented at the annual Kalamazoo Community Medical and Health Sciences Research Day and other prestigious regional and national venues. Many projects are published in peer-reviewed journals.
Our faculty provide research mentorship in a wide variety of interests.
Research and Scholarly Activity, 2011-16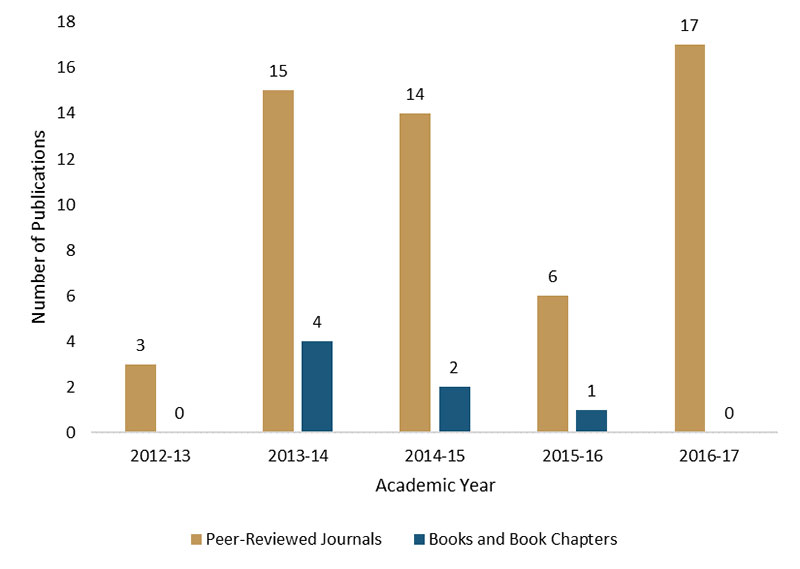 Recent Publications
Impact of a Mass Gathering Alcohol Sobering Facility on Emergency Resources.
Castro-Marin F, Maher SA, Navarro T, Nuño T, Whitney J, McDonald A, Razo A, Marcuzzo C, Chick R, Gaither JB
Prehosp Emerg Care. 2018 Jan 3 :1-6
PMID: 29297740
Using simulation to identify and resolve threats to patient safety.
Hamman WR, Beaudin-Seiler BM, Beaubien JM, Gullickson AM, Orizondo-Korotko K, Gross AC, Fuqua RW, Lammers RL, Hamman W., Beaudin-Seiler B., Beaubien J., Gullickson A., Orizondo-Korotko K., Gross A., Fuqua R., Lammers R.
Am J Manag Care. June 2010; 16:6:e145-50
PMID: 20536272
Using in situ simulation to identify and resolve latent environmental threats to patient safety: case study involving operational changes in a labor and delivery ward.
Hamman WR, Beaudin-Seiler BM, Beaubien JM, Gullickson AM, Orizondo-Korotko K, Gross AC, Fuqua W, Lammers R, Hamman W., Beaudin-Seiler B., Beaubien J., Gullickson A., Orizondo-Korotko K., Gross A., Fuqua W., Lammers R.
Qual Manag Health Care. July 2010; 19:3:226-30
PMID: 20588141
Comparative study of airway management techniques with restricted access to patient airway.
Hoyle JD Jr, Jones JS, Deibel M, Lock DT, Reischman D, Hoyle J., Hoyle J., Hoyle J., Jones J., Deibel M., Lock D., Reischman D., Reischman D.
Prehosp Emerg Care. July 2007; 11:3:330-6
PMID: 17613909
Effect of povidone-iodine and saline soaking on bacterial counts in acute, traumatic, contaminated wounds.
Lammers RL, Fourré M, Callaham ML, Boone T, Lammers R., Fourré M., Callaham M., Boone T.
Ann Emerg Med. June 1990; 19:6:709-14
PMID: 2344090
Competence of new emergency medicine residents in the performance of lumbar punctures.
Lammers RL, Temple KJ, Wagner MJ, Ray D, Lammers R., Lammers R., Temple K., Wagner M., Ray D.
Acad Emerg Med. July 2005; 12:7:622-8
PMID: 15995094
Cervical spine injury patterns in children
Leonard J., Jaffe D., Kuppermann N., Kuppermann N., Olsen C., Leonard J., Nigrovic L., Powell E., Stankovic C., Mahajan P., Donoghue A., Brown K., Reeves S., Hoyle J., Borgialli D., Anders J., Rebella G., Adelgais K., Lillis K., Kim E., Teshome G., Rogers A., Babcock L., Holubkov R., Dean J.
. May 2014; 133:5
PMID: 24777222
Implicit Review Instrument to Evaluate Quality of Care Delivered by Physicians to Children in Emergency Departments
Marcin J., Romano P., Romano P., Dharmar M., Chamberlain J., Dudley N., Macias C., Nigrovic L., Powell E., Rogers A., Sonnett M., Tzimenatos L., Alpern E., Alpern E., Andrews-Dickert R., Borgialli D., Sidney E., Casper C., Dean J., Kuppermann N., Kuppermann N., Callahan J., Dayan P., Gerardi M., Gorelick M., Hoyle J., Jacobs E., Jaffe D., Lichenstein R., Lillis K., Mahajan P., Maio R., Moler F., Monroe D., Ruddy R., Stanley R., Tunik M., Walker A., Kavanaugh D., Park H., Holubkov R., Knight S., Donaldson A., Zuspan S., Miskin M., Wade J., Jones A., Fjelstad M., Singh T., Drongowski A., Fukushima L., Kim E., O'Gara G., Rincon H., Brown K., Babcock L., Foltin G., Teach S., Cooper A., Mann N., Shaw K., Ehrlich P., Enriquez R., Millar B., Shults M., Schalick W., Atabaki S., Burr J., Call K., Suhajda J., Schamban N.
. June 2018; 53:3:1316-1334
PMID: 900000116
The effect of observation on cranial computed tomography utilization for children after blunt head trauma.
Nigrovic LE, Schunk JE, Foerster A, Cooper A, Miskin M, Atabaki SM, Hoyle J, Dayan PS, Holmes JF, Kuppermann N, Traumatic Brain Injury Group for the Pediatric Emergency Care Applied Research Network, Nigrovic L., Schunk J., Schunk J., Foerster A., Cooper A., Miskin M., Atabaki S., Hoyle J., Dayan P., Holmes J., Kuppermann N.
Pediatrics. June 2011; 127:6:1067-73
PMID: 21555498
Evaluating the injury incidence from skate shoes in the united states
Ruth E., Ruth E., Shah B., Fales W.
. May 2009; 25:5:321-324
PMID: 19404224
Does race or socioeconomic status predict adverse outcome after out of hospital cardiac arrest: a multi-center study
Sayegh A., Swor R., Chu K., Jackson R., Gitlin J., Domeier R., Basse E., Smith D., Fales W.
. May 1999; 40:3:141-146
PMID: 10395396
Inability of patients to self-diagnose wound infections
Seaman M., Lammers R.
. July 1991/August 1991; 9:4:215-219
PMID: 1677648
Recognition and treatment of pain in youth
Truba N., Hoyle J.
. July 01, 2015 :303-319
PMID: 900000118
When do you refuse ambulance transport?. Interview by Nancy Perry.
Utecht T, Lammers RL, Utecht T., Lammers R.
Emerg Med Serv. May 1996; 25:5:55-7
PMID: 10156999
Ligand-dependent tumor induction in medakafish embryos by a Xmrk receptor tyrosine kinase transgene
Winkler C., Wittbrodt J., Lammers R., Ullrich A., Schartl M.
. June 1994; 9:6:1517-1525
PMID: 8183545
Prevalence of Brain Injuries and Recurrence of Seizures in Children with Post Traumatic Seizures.
Badawy MK, Dayan PS, Tunik MG, Nadel FM, Lillis KA, Miskin M, Borgialli DA, Bachman MC, Atabaki SM, Hoyle JD Jr, Holmes JF, Kuppermann N, Pediatric Emergency Care Applied Research Network (PECARN)., Badawy M., Dayan P., Tunik M., Nadel F., Lillis K., Miskin M., Borgialli D., Bachman M., Atabaki S., Hoyle J., Holmes J., Kuppermann N., Kuppermann N., Tunik M., Tsung J., Melville K., Lee L., Mahajan P., Dayan P., Nadel F., Powell E., Atabaki S., Brown K., Glass T., Hoyle J., Cooper A., Jacobs E., Monroe D., Borgialli D., Gorelick M., Bandyopadhyay S., Bachman M., Schamban N., Callahan J., Kuppermann N., Holmes J., Lichenstein R., Stanley R., Badawy M., Babcock-Cimpello L., Schunk J., Quayle K., Jaffe D., Lillis K., Kuppermann N., Alpern E., Chamberlain J., Dean J., Gerardi M., Goepp J., Gorelick M., Hoyle J., Jaffe D., Johns C., Levick N., Mahajan P., Maio R., Melville K., Miller S., Monroe D., Ruddy R., Stanley R., Treloar D., Tunik M., Walker A.",Kavanaugh,"Park H., Dean M., Holubkov R., Knight S., Donaldson A., Chamberlain J., Brown M., Corneli H., Goepp J., Holubkov R., Mahajan P., Melville K., Stremski E., Tunik M., Gorelick M., Alpern E., Dean J., Foltin G., Joseph J., Miller S., Moler F., Stanley R., Teach S., Jaffe D., Brown K., Cooper A., Dean J., Johns C., Maio R., Mann C., Monroe D., Shaw K., Teitelbaum D., Treloar D.
Acad Emerg Med. 2017 Feb 7
PMID: 28170143
Pediatric Prehospital Medication Dosing Errors: A National Survey of Paramedics.
Hoyle JD Jr, Crowe RP, Bentley MA, Beltran G, Fales W, Hoyle J., Crowe R., Bentley M., Beltran G., Fales W.
Prehosp Emerg Care. 2017 Mar-Apr; 21:2:185-191
PMID: 28257249
Epidemiology of Bacteremia in Febrile Infants Aged 60 Days and Younger.
Powell EC, Mahajan PV, Roosevelt G, Hoyle JD Jr, Gattu R, Cruz AT, Rogers AJ, Atabaki SM, Jaffe DM, Casper TC, Ramilo O, Kuppermann N, Febrile Infant Working Group of the Pediatric Emergency Care Applied Research Network (PECARN).
Ann Emerg Med. 2017 Oct 6
PMID: 28988964
Calcaneus Fractures: A Possible Musculoskeletal Emergency.
Snoap T, Jaykel M, Williams C, Roberts J
J Emerg Med. 2017 Jan; 52:1:28-33
PMID: 27658550
Evaluating the Cost and Utility of Mandating Schools to Stock Epinephrine Auto-injectors.
Steffens C, Clement B, Fales W, Chehade AEH, Putman K, Swor R
Prehosp Emerg Care. 2017 Apr 17 :1-4
PMID: 28414559
Challenges of Using Probabilistic Linkage Methodology to Characterize Post-Cardiac Arrest Care in Michigan.
Swor R, Qu L, Putman K, Sawyer KN, Domeier R, Fowler J, Fales W
Prehosp Emerg Care. 2017 Sep 14 :1-6
PMID: 28910207
Utilization of Intravenous Catheters by Prehospital Providers during Pediatric Transports.
VanderKooy T, Spaur K, Brou L, Caffrey S, Adelgais KM
Prehosp Emerg Care. 2017 Aug 9 :1-8
PMID: 28792258
Transcatheter aortic valve replacement for severe aortic stenosis in dextrocardia with situs inversus: First reported case in the United States.
Agrawal Y, Miller M, Pratt JW, Martin D, Kalavakunta JK, Saltiel F, Gupta V, Agrawal Y., Miller M., Pratt J., Martin D., Kalavakunta J., Saltiel F., Gupta V.
Int J Cardiol. 2016 Apr 15; 209:137-8
PMID: 26889599
Comparison of Prediction Rules and Clinician Suspicion for Identifying Children With Clinically Important Brain Injuries After Blunt Head Trauma.
Atabaki SM, Hoyle JD Jr, Schunk JE, Monroe DJ, Alpern ER, Quayle KS, Glass TF, Badawy MK, Miskin M, Schalick WO, Dayan PS, Holmes JF, Kuppermann N, Atabaki S., Hoyle J., Hoyle J., Schunk J., Monroe D., Alpern E., Alpern E., Quayle K., Glass T., Glass T., Badawy M., Badawy M., Miskin M., Schalick W., Dayan P., Holmes J., Holmes J., Kuppermann N., Kuppermann N.
Acad Emerg Med. 2016 May; 23:5:566-75
PMID: 26825755
Performance of the Pediatric Glasgow Coma Scale Score in the Evaluation of Children with Blunt Head Trauma.
Borgialli DA, Mahajan P, Hoyle JD Jr, Powell EC, Nadel FM, Tunik MG, Foerster A, Dong L, Miskin M, Dayan PS, Holmes JF, Kuppermann N, Pediatric Emergency Care Applied Research Network (PECARN), Borgialli D., Borgialli D., Mahajan P., Hoyle J., Hoyle J., Powell E., Nadel F., Tunik M., Foerster A., Dong L., Miskin M., Dayan P., Holmes J., Kuppermann N., Kuppermann N., Gerardi M., Tunik M., Tsung J., Melville K., Lee L., Mahajan P., Dayan P., Nadel F., Powell E., Atabaki S., Brown K., Glass T., Hoyle J., Cooper A., Jacobs E., Foerster A., Monroe D., Borgialli D., Gorelick M., Bandyopadhyay S., Bachman M., Schamban N., Callahan J., Kuppermann N., Holmes J., Lichenstein R., Stanley R., Badawy M., Babcock-Cimpello L., Schunk J., Quayle K., Jaffe D., Lillis K.
Acad Emerg Med. 2016 May 20
PMID: 27197686
Emergency Medical Dispatchers Can Obtain Accurate Pediatric Weights from 9-1-1 Callers.
Chassee T, Reischmann D, Mancera M, Hoyle JD Jr, Chassee T., Reischmann D., Mancera M., Mancera M., Hoyle J.
Prehosp Emerg Care. 2016 Sep 30 :1-7
PMID: 27690289
Pediatric Prehospital Medication Dosing Errors: A Mixed-Methods Study.
Hoyle JD Jr, Sleight D, Henry R, Chassee T, Fales B, Mavis B, Hoyle J., Sleight D., Henry R., Chassee T., Fales B., Mavis B.
Prehosp Emerg Care. 2016; 20:1:117-24
PMID: 26400075
Authorship Trends of Emergency Medicine Publications over the Last Two Decades.
Lammers R, Simunich T, Ashurst J, Lammers R., Simunich T., Ashurst J.
West J Emerg Med. 2016; 17:3:367-71
PMID: 27330673
Association of RNA Biosignatures With Bacterial Infections in Febrile Infants Aged 60 Days or Younger.
Mahajan P, Kuppermann N, Mejias A, Suarez N, Chaussabel D, Casper TC, Smith B, Alpern ER, Anders J, Atabaki SM, Bennett JE, Blumberg S, Bonsu B, Borgialli D, Brayer A, Browne L, Cohen DM, Crain EF, Cruz AT, Dayan PS, Gattu R, Greenberg R, Hoyle JD Jr, Jaffe DM, Levine DA, Lillis K, Linakis JG, Muenzer J, Nigrovic LE, Powell EC, Rogers AJ, Roosevelt G, Ruddy RM, Saunders M, Tunik MG, Tzimenatos L, Vitale M, Dean JM, Ramilo O, Pediatric Emergency Care Applied Research Network (PECARN)., Mahajan P., Kuppermann N., Mejias A., Suarez N., Chaussabel D., Chaussabel D., Casper T., Smith B., Alpern E., Alpern E., Anders J., Atabaki S., Bennett J., Blumberg S., Bonsu B., Borgialli D., Brayer A., Browne L., Cohen D., Crain E., Cruz A., Dayan P., Gattu R., Greenberg R., Hoyle J., Hoyle J., Jaffe D., Jaffe D., Levine D., Lillis K., Linakis J., Muenzer J., Muenzer J., Nigrovic L., Powell E., Rogers A., Roosevelt G., Ruddy R., Saunders M., Saunders M., Tunik M., Tzimenatos L., Vitale M., Dean J., Ramilo O.
JAMA. 2016 Aug 23-30; 316:8:846-57
PMID: 27552618
Challenges enrolling children into traumatic brain injury trials: An observational study.
Stanley RM, Johnson MD, Vance C, Bajaj L, Babcock L, Atabaki S, Thomas D, Simon HK, Cohen DM, Rubacalva D, Adelson PD, Bulloch B, Rogers AJ, Mahajan P, Baren J, Lee L, Hoyle J, Quayle K, Casper TC, Dean JM, Kuppermann N, Pediatric Emergency Care Applied Research Network (PECARN)., Stanley R., Stanley R., Johnson M., Vance C., Bajaj L., Babcock L., Atabaki S., Thomas D., Simon H., Cohen D., Rubacalva D., David Adelson P., Bulloch B., Rogers A., Mahajan P., Baren J., Lee L., Hoyle J., Hoyle J., Hoyle J., Quayle K., Charles Casper T., Michael Dean J., Kuppermann N.
Acad Emerg Med. 2016 Sep 12
PMID: 27618167
Clinical Presentations and Outcomes of Children With Basilar Skull Fractures After Blunt Head Trauma.
Tunik MG, Powell EC, Mahajan P, Schunk JE, Jacobs E, Miskin M, Zuspan SJ, Wootton-Gorges S, Atabaki SM, Hoyle JD Jr, Holmes JF Jr, Dayan PS, Kuppermann N, Pediatric Emergency Care Applied Research Network (PECARN)., Tunik M., Powell E., Mahajan P., Schunk J., Miskin M., Zuspan S., Miskin M., Zuspan S., Jacobs E., Wootton-Gorges S., Atabaki S., Hoyle J., Hoyle J., Holmes J., Kuppermann N., Kuppermann N., Dayan P., Gerardi M., Tunik M., Tsung J., Melville K., Atabaki S., Brown K., Glass T., Hoyle J., Cooper A., Jacobs E., Monroe D., Borgialli D., Gorelick M., Bandyopadhyay S., Bachman M., Schamban N., Callahan J., Kuppermann N., Holmes J., Lichenstein R., Stanley R., Badawy M., Babcock-Cimpello L., Schunk J., Quayle K., Jaffe D., Lillis K., Kuppermann N., Alpern E., Chamberlain J., Dean J., Gerardi M., Goepp J., Gorelick M., Hoyle J., Jaffe D., Johns C., Levick N., Mahajan P., Maio R., Melville K., Miller S., Monroe D., Ruddy R., Stanley R., Treloar D., Tunik M., Walker A., Kavanaugh D., Park H., Dean M., Holubkov R., Knight S., Donaldson A., Chamberlain J., Brown M., Corneli H., Goepp J., Holubkov R., Mahajan P., Melville K., Stremski E., Tunik M., Gorelick M., Alpern E., Dean J., Foltin G., Joseph J., Miller S., Moler F., Stanley R., Teach S., Jaffe D., Brown K., Cooper A., Dean J., Johns C., Maio R., Mann N., Monroe D., Shaw K., Teitelbaum D., Treloar D.
Ann Emerg Med. 2016 Oct; 68:4:431-440.e1
PMID: 27471139
Wilderness Medicine Curricular Content in Emergency Medicine Residency Programs.
Aronstam EJ, Christensen ML, Williams MP, Overton DT
Wilderness Environ Med. 2015 Dec; 26:4:577-9
PMID: 26141917
Headache in traumatic brain injuries from blunt head trauma.
Dayan PS, Holmes JF, Hoyle J Jr, Atabaki S, Tunik MG, Lichenstein R, Miskin M, Kuppermann N, Pediatric Emergency Care Applied Research Network (PECARN), Dayan P., Holmes J., Hoyle J., Hoyle J., Hoyle J., Hoyle J., Atabaki S., Atabaki S., Tunik M., Tunik M., Lichenstein R., Miskin M., Kuppermann N., Kuppermann N.
Pediatrics. 2015 Mar; 135:3:504-12
PMID: 25647678
Care for Cardiac Arrest on Golf Courses: Still Not up to Par?
Deutsch L, Paternoster R, Putman K, Fales W, Swor R
Prehosp Emerg Care. 2015 January-March; 19:1:31-35
PMID: 25153828
A survey of simulation fellowship programs.
Kotal ER, Sivertson RM, Wolfe SP, Lammers RL, Overton DT, Kotal E., Sivertson R., Wolfe S., Lammers R., Overton D.
J Emerg Med. 2015 Mar; 48:3:351-5
PMID: 25456774
RNA transcriptional biosignature analysis for identifying febrile infants with serious bacterial infections in the emergency department: a feasibility study.
Mahajan P, Kuppermann N, Suarez N, Mejias A, Casper C, Dean JM, Ramilo O, Febrile Infant Working Group for the Pediatric Emergency Care Applied Research Network (PECARN)., Mahajan P., Kuppermann N., Suarez N., Mejias A., Casper C., Dean J., Ramilo O., Powell E., Levine D., Tunik M., Nigrovic L., Roosevelt G., Bjaj L., Alpern E., Browne L., Atabaki S., Ruddy R., Hoyle J., Borgialli D., Crain E., Blumberg S., Anders J., Bonsu B., Cohen D., Dayan P., Greenberg R., Jaffe D., Muenzar J., Cruz A., Tzimenatos L., Gattu R., Rodgers A., Brayer A., Lillis K.
Pediatr Emerg Care. 2015 Jan; 31:1:1-5
PMID: 25526020
Air Medical Curricula in Emergency Medicine Residencies: A National Survey.
Mastenbrook J, Savino P, Mazurek P, Eichel J, Selde W, Ekblad G
Air Med J. 2015 Sep-Oct; 34:5:283-8
PMID: 26354305
Comparison of outcomes for children with cervical spine injury based on destination hospital from scene of injury.
Anders JF, Adelgais K, Hoyle JD Jr, Olsen C, Jaffe DM, Leonard JC, Pediatric Emergency Care Applied Research Network (PECARN), Anders J., Adelgais K., Adelgais K., Hoyle J., Olsen C., Jaffe D., Leonard J.
Acad Emerg Med. 2014 Jan; 21:1:55-64
PMID: 24552525
Medical student education in emergency medicine: do students meet the national standards for clinical encounters of selected core conditions?
Avegno J, Leuthauser A, Martinez J, Marinelli M, Osgood G, Satonik R, Ander D
J Emerg Med. 2014 Sep; 47:3:328-32
PMID: 24973051
Diabetic emergencies: new strategies for an old disease.
Beltran G
Emerg Med Pract. 2014 Jun; 16:6:1-19; quiz 19-20
PMID: 25299033
Association of traumatic brain injuries with vomiting in children with blunt head trauma.
Dayan PS, Holmes JF, Atabaki S, Hoyle J Jr, Tunik MG, Lichenstein R, Alpern E, Miskin M, Kuppermann N, Traumatic Brain Injury Study Group of the Pediatric Emergency Care Applied Research Network (PECARN), Dayan P., Holmes J., Atabaki S., Hoyle J., Tunik M., Lichenstein R., Alpern E., Miskin M., Kuppermann N., Kuppermann N.
Ann Emerg Med. 2014 Jun; 63:6:657-65
PMID: 24559605
Risk of traumatic brain injuries in children younger than 24 months with isolated scalp hematomas.
Dayan PS, Holmes JF, Schutzman S, Schunk J, Lichenstein R, Foerster LA, Hoyle J Jr, Atabaki S, Miskin M, Wisner D, Zuspan S, Kuppermann N, Traumatic Brain Injury Study Group of the Pediatric Emergency Care Applied Research Network (PECARN), Dayan P., Holmes J., Schutzman S., Schunk J., Lichenstein R., Foerster L., Hoyle J., Atabaki S., Miskin M., Wisner D., Zuspan S., Kuppermann N., Kuppermann N.
Ann Emerg Med. 2014 Aug; 64:2:153-62
PMID: 24635991
A multicenter study of the family educational rights and privacy act and the standardized letter of recommendation: impact on emergency medicine residency applicant and faculty behaviors.
Diab J, Riley S, Downes A, Gaeta T, Hern HG, Hwang E, Kass L, Kelly M, Luber SD, Martel M, Minns A, Patterson L, Pazderka P, Sayan O, Thurman J, Vallee P, Overton D
J Grad Med Educ. 2014 Jun; 6:2:292-5
PMID: 24949134
Pharmacological sedation for cranial computed tomography in children after minor blunt head trauma.
Hoyle JD Jr, Callahan JM, Badawy M, Powell E, Jacobs E, Gerardi M, Melville K, Miskin M, Atabaki SM, Dayan P, Holmes JF, Kuppermann N, Traumatic Brain Injury Study Group for the Pediatric Emergency Care Applied Research Network (PECARN), Hoyle J., Hoyle J., Callahan J., Badawy M., Powell E., Jacobs E., Gerardi M., Melville K., Miskin M., Atabaki S., Dayan P., Holmes J., Kuppermann N., Kuppermann N.
Pediatr Emerg Care. 2014 Jan; 30:1:1-7
PMID: 24365725
Inpatient hospitalization and intimate partner violence: who are we treating?
Kothari RU, Kothari C, DeBoer M, Koestner A, Rohs T, Kothari R., Kothari C., Deboer M., Koestner A., Rohs T.
J Trauma Acute Care Surg. 2014 Jul; 77:1:129-36; discussion 136
PMID: 24977767
Medication errors in prehospital management of simulated pediatric anaphylaxis.
Lammers R, Willoughby-Byrwa M, Fales W, Lammers R., Willoughby-Byrwa M., Fales W.
Prehosp Emerg Care. 2014; 18:2:295-304
PMID: 24401046
Errors and error-producing conditions during a simulated, prehospital, pediatric cardiopulmonary arrest.
Lammers RL, Willoughby-Byrwa M, Fales WD, Lammers R., Willoughby-Byrwa M., Fales W.
Simul Healthc. 2014 Jun; 9:3:174-83
PMID: 24401924
Characteristics of the pediatric patients treated by the Pediatric Emergency Care Applied Research Network's affiliated EMS agencies.
Lerner EB, Dayan PS, Brown K, Fuchs S, Leonard J, Borgialli D, Babcock L, Hoyle JD Jr, Kwok M, Lillis K, Nigrovic LE, Mahajan P, Rogers A, Schwartz H, Soprano J, Tsarouhas N, Turnipseed S, Funai T, Foltin G, Pediatric Emergency Care Applied Research Network (PECARN), Lerner E., Dayan P., Brown K., Fuchs S., Leonard J., Borgialli D., Babcock L., Hoyle J., Kwok M., Lillis K., Nigrovic L., Mahajan P., Rogers A., Schwartz H., Soprano J., Tsarouhas N., Turnipseed S., Funai T., Foltin G.
Prehosp Emerg Care. 2014 Jan-Mar; 18:1:52-9
PMID: 24134593
Procalcitonin as a marker of serious bacterial infections in febrile children younger than 3 years old.
Mahajan P, Grzybowski M, Chen X, Kannikeswaran N, Stanley R, Singal B, Hoyle J Jr, Borgialli D, Duffy E, Kuppermann N, Mahajan P., Mahajan P., Grzybowski M., Grzybowski M., Chen X., Kannikeswaran N., Stanley R., Singal B., Hoyle J., Hoyle J., Borgialli D., Borgialli D., Duffy E., Kuppermann N.
Acad Emerg Med. 2014 Feb; 21:2:171-9
PMID: 24673673
Flashback phenomenon and residual neurological deficits after the use of "bath salt" 3, 4- methylenedioxypyrovalerone.
Mangold AR, Bravo TP, Traub SJ, Maher SA, Lipinski CA
World J Emerg Med. 2014; 5:1:63-6
PMID: 25215150
Sweet solutions and needle-related pain in infants.
Michiels EA, Hoyle JD Jr, Michiels E., Hoyle J.
Ann Emerg Med. 2014 Mar; 63:3:300-1
PMID: 24120628
ACC/AHA/AACVPR/AAFP/ANA concepts for clinician-patient shared accountability in performance measures: a report of the American College of Cardiology/American Heart Association Task Force on Performance Measures.
Peterson ED, Ho PM, Barton M, Beam C, Burgess LH, Casey DE Jr, Drozda JP Jr, Fonarow GC, Goff D Jr, Grady KL, King DE, King ML, Masoudi FA, Nielsen DR, Stanko S
Circulation. 2014 Nov 25; 130:22:1984-94
PMID: 25366994
ACC/AHA/AACVPR/AAFP/ANA concepts for clinician-patient shared accountability in performance measures: a report of the American College of Cardiology/American Heart Association Task Force on Performance Measures.
Peterson ED, Ho PM, Barton M, Beam C, Burgess LH, Casey DE Jr, Drozda JP Jr, Fonarow GC, Goff D Jr, Grady KL, King DE, King ML, Masoudi FA, Nielsen DR, Stanko S
J Am Coll Cardiol. 2014 Nov 18-25; 64:20:2133-45
PMID: 25439761
Epidemiology of blunt head trauma in children in U.S. emergency departments.
Quayle KS, Powell EC, Mahajan P, Hoyle JD Jr, Nadel FM, Badawy MK, Schunk JE, Stanley RM, Miskin M, Atabaki SM, Dayan PS, Holmes JF, Kuppermann N, Quayle K., Powell E., Mahajan P., Hoyle J., Nadel F., Badawy M., Schunk J., Stanley R., Miskin M., Atabaki S., Dayan P., Holmes J., Kuppermann N.
N Engl J Med. 2014 Nov 13; 371:20:1945-7
PMID: 25390756
Successful airtraq use in an air medical transport system.
Selde W, English K, Heffelfinger M, Eichel J, Ekblad G
Air Med J. 2014 Nov-Dec; 33:6:331-4
PMID: 25441532
Emergency department practice variation in computed tomography use for children with minor blunt head trauma.
Stanley RM, Hoyle JD Jr, Dayan PS, Atabaki S, Lee L, Lillis K, Gorelick MH, Holubkov R, Miskin M, Holmes JF, Dean JM, Kuppermann N, Pediatric Emergency Care Applied Research Network (PECARN), Stanley R., Hoyle J., Dayan P., Atabaki S., Lee L., Lillis K., Gorelick M., Holubkov R., Miskin M., Holmes J., Dean J., Kuppermann N.
J Pediatr. 2014 Dec; 165:6:1201-1206.e2
PMID: 25294604
Pediatric pain
Truba N., Hoyle J.
. 2014; 7:3:235-248
PMID: 900000119
What are barriers to nurses screening for intimate partner violence?
DeBoer MI, Kothari R, Kothari C, Koestner AL, Rohs T Jr, DeBoer M., Kothari R., Kothari C., Koestner A., Rohs T.
J Trauma Nurs. 2013 Jul-Sep; 20:3:155-60; quiz 161-2
PMID: 24005119
The prevalence of traumatic brain injuries after minor blunt head trauma in children with ventricular shunts.
Nigrovic LE, Lillis K, Atabaki SM, Dayan PS, Hoyle J, Tunik MG, Jacobs ES, Monroe D, Wootton-Gorges SW, Miskin M, Holmes JF, Kuppermann N, Traumatic Brain Injury (TBI) Working Group of the Pediatric Emergency Care Applied Research Network (PECARN)
Ann Emerg Med. 2013 Apr; 61:4:389-93
PMID: 23122954
Healthcare providers: Will they come to work during an influenza pandemic?
Rossow C., Ivanitskaya L., Fulton L., Fales W.
. 2013; 133:133-147
PMID: 900000114