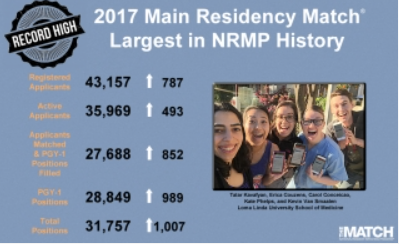 The medical school will welcome 69 new resident physicians this summer following a successful Match Day that saw WMed's eight programs fill every available training slot.
The results were part of Friday's 2017 Main Residency Match, which was the largest on record, according to the National Resident Matching Program (NRMP).
This year's Match was made up of 43,157 registered applicants – 787 more than in 2016 – and 31,757 positions. Additionally, the number of available first-year (PGY-1) positions rose to 28,849, 989 more than last year.
WMed's new resident physicians will begin their training at the medical school on July 1, 2017. The medical school boasts training programs in Emergency Medicine, Family Medicine, General Surgery, Internal Medicine, Medicine-Pediatrics, Orthopaedic Surgery, Pediatrics and Psychiatry, as well as fellowships in Emergency Medical Services and Sports Medicine.
Match Day is a time-honored event held at medical schools across the country and it represents a culmination for graduating medical students as the course of their medical careers is determined and they learn where they will spend the next three to seven years for residency training. Residents practice the medicine of their choice in a clinical setting under the supervision of fully licensed physicians.
The Main Residency Match process begins in the fall for applicants, usually in the final year of medical school, when they apply to residency programs at which they would like to train. Program directors review applications and conduct candidate interviews in the fall and early winter. From mid-January to late February, applicants submit to NRMP their rank order lists of preferred programs, and program directors rank applicants in order of preference for training. The NRMP uses a computerized mathematical algorithm to match applicants with programs using the preferences expressed on their ranked lists.
About the NRMP: The National Resident Matching Program® (NRMP®) is a private, non-profit organization established in 1952 at the request of medical students to provide an orderly and fair mechanism for matching the preferences of applicants for U.S. residency positions with the preferences of residency program directors. In addition to the annual Main Residency Match®, the NRMP conducts Fellowship Matches for more than 60 subspecialties through its Specialties Matching Service® (SMS®).