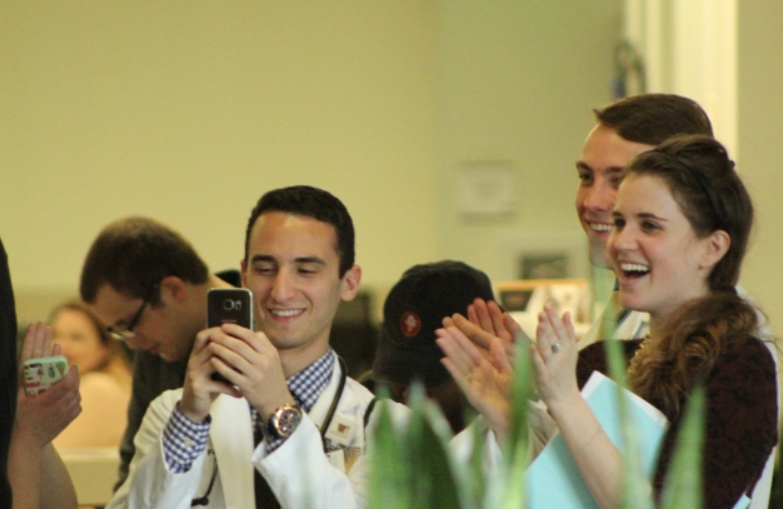 As he held a small bowl of ice cream in his hand, Ryan D'Mello smiled and seemed somewhat in awe of how fast his first year at WMed has flown by.
"It's crazy how far our class has come and how much we've learned," said D'Mello, a Kalamazoo College graduate and member of the medical school's Class of 2020. "I'm really excited, we're now starting to see the pieces come together. I think it's a little nerve-racking too."
For a moment though, on Thursday, April 13, D'Mello and other students at WMed were able to take a breath and relax as the medical school celebrated the moving up of students to their next year with an ice cream social at the W.E. Upjohn M.D. Campus.
The crowd at the event included students like D'Mello, as well as second- and third-year students, all of who will officially be M2s, M3s and M4's, respectively, as of May 1. It was a time to not only celebrate what the students have accomplished, but also to recognize what lies ahead in the next year of medical school.
As the students and faculty and staff gathered for the ice cream social, a long line snaked along the first floor of the Upjohn Campus as each person waited to get their share of ice cream from Cold Stone Creamery. The crowd filled the building with chatter and laughter.
Michael Chavarria, a second-year student, said he appreciated the chance to gather with students from his class, as well as the M1s and M3s.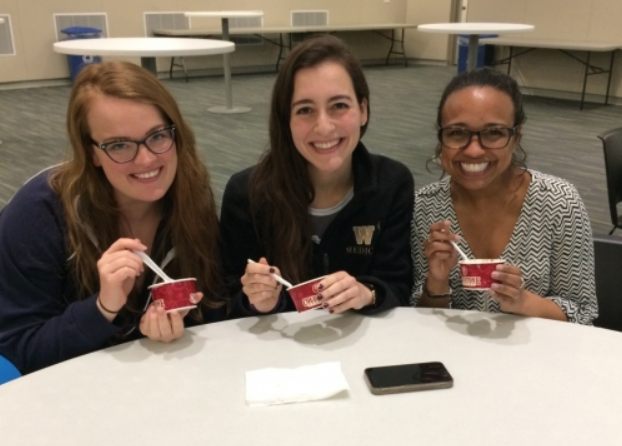 "It's nice to know the school is looking out for us in a sweet way," Chavarria said of the ice cream social.
Chavarria said he is excited about entering his third year of medical school and his first clerkship in Internal Medicine, which will begin May 1.
"It's really exciting to finally be in the hospital," he said.
Nick Beam, a third-year student at WMed, said he's eager to enter his final year of medical school and is looking forward to his first rotation, which will be an Ambulatory Pediatrics rotation at Rambling Road Pediatrics in Oshtemo Township.
As he enjoyed some ice cream during the event, Beam said his time in medical school has "flown by."
"A lot of stress, a lot of hard work, a lot of fun," Beam said of his time at WMed. "I think you kind of take it for granted. This (event) is an opportunity to see where we've come from and what we've gone through.
"I think it's really cool."