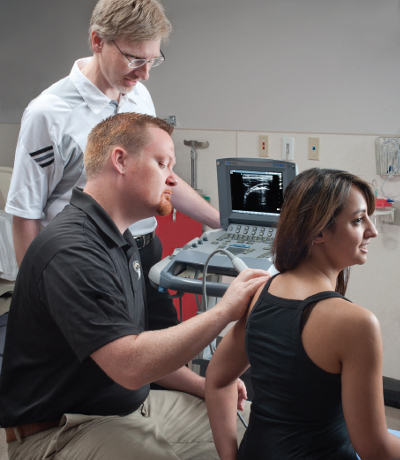 The Orthopaedics Clinic offers surgical and non-surgical care for adults and children with injuries, conditions or problems related to bones, joints, muscles and the spine. The Clinic is accepting new patients. Appointments may require a physician referral depending on insurance requirements.
Our care team is committed to delivering personalized, state-of-the-art services, and quality care to every patient. You are treated as an individual and our care plans are tailored to address your needs and concerns. We take the right amount of time to adequately evaluate your condition and problems. We make every effort to render compassionate and timely care to reduce your stress and anxiety.
Through teaching of resident physicians, medical students, and other learners our faculty physicians are constantly incorporating new ideas and novel technology into our day-to-day practice to provide you the best care possible.
Services and procedures we provide include:
Arthroscopic treatment
Brace treatment
Fracture and trauma care
Fracture cast treatment
Joint and tendon injections
Joint replacement
Myelodysplasia (Spina Bifida)

Pediatric and adolescent orthopaedics
Ponseti club foot cast treatment
Reconstructive procedures
Shoulder and elbow disorders
Spinal surgery and scoliosis treatment
Sports medicine
Sports-related rehab and brace treatment
Our Location
Our clinic is located at 1000 Oakland Drive on the 1st floor in Kalamazoo, Michigan. Parking is available adjacent to the WMed Clinics building. Our clinics are a non-smoking environment. We strive to provide a clean environment for our patients.
Fees and Insurance
Our clinic participates with many insurance providers. Before you first visit, check with your insurance company to understand what services will be paid for by your insurance plan. For every appointment, you will need to bring your insurance card(s). Co-pays are due at the time of service and accepted forms of payment are cash, check, MasterCard, Visa, and Discover. If you have questions, our patient financial counselors we are ready to help you. Please call our Billing Department at 269.337.4460.
Our Providers