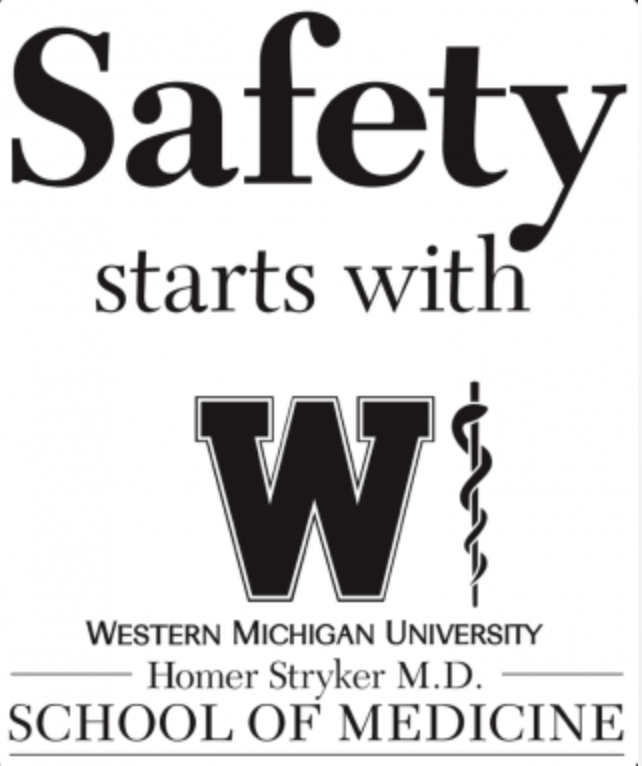 During the month of June, the medical school has been keenly focused on raising awareness among faculty, residents, students and staff about workplace, campus, patient care and personal safety.
But those efforts, which come during National Safety Month, are about more than just spreading a message, said Randy Edwards, WMed's Director of Facilities and Chief Safety and Security Officer.
"I hope the efforts help open employees' and students' eyes and they know the institution cares about us," Edwards said recently. "We want everyone to be safe in our facilities and if we don't reach out, I don't think we've done our job.
"We want to make sure our people are safe."
As part of National Safety Month, WMed has joined other organizations across the country to raise awareness about safety with the campaign "Safety Starts with WMed." The campaign has included, among other things, the sharing of information, safety tips and reminders through internal communication channels.
Additionally, the medical school's emergency coordinators and Campus Safety Authorities are taking part in annual training this month and in July. Emergency coordinators play a key leadership role in their respective departments during preparedness drills and actual emergencies, and CSAs are tasked with reporting any allegations of crimes to Edwards should they occur.
"The more we can prepare, the better off we will be as a community in terms of safety," Edwards said. "National Safety Month gives us a chance to show our students, residents, faculty and staff and patients that we care about their well-being and are committed to ensuring their safety."
WMed holds fire and tornado drill regularly during the year at the W.E. Upjohn M.D. and Oakland Drive campuses, as well as the Innovation Center and the Department of Psychiatry at the Borgess North Professional Building on Gull Road.
An active shooter drill was held at the Oakland Drive Campus in December and at the Innovation Center in May. In previous years, the medical school has conducted biohazard and epidemic drills, as well as infant-abduction drills at the WMed Clinics.
In September, the medical school will conduct active shooter drills at the Family Health centers on Paterson and East Alcott streets in Kalamazoo. An active shooter drill is also being planned for the W.E. Upjohn M.D. Campus after the arrival of the new class of medical students this fall, Edwards said.
During National Safety Month, WMed employees received a complimentary reflective shopping bag that contained a "Safety Starts with WMed" brochure with quick tips, facts and reminders to raise awareness about campus, workplace and personal safety. The bags were distributed June 15 and also included the safety self-assessment, "How Safe Are You?" The self-assessment was also available online. The response data will be used to inform future planning for safety awareness and education.
The medical school also conducted a test of its emergency notification system on June 23. WMed uses the system to notify faculty, residents, students and staff of emergency situations and weather closures.
Edwards said he has received positive feedback from employees and students about the medical school's efforts during National Safety Month. Specifically, he said employees have told him they appreciated the safety brochure with tips, facts and reminders.
"It's not a lot, but it is a way to tell employees and students we're thinking about you," Edwards said.