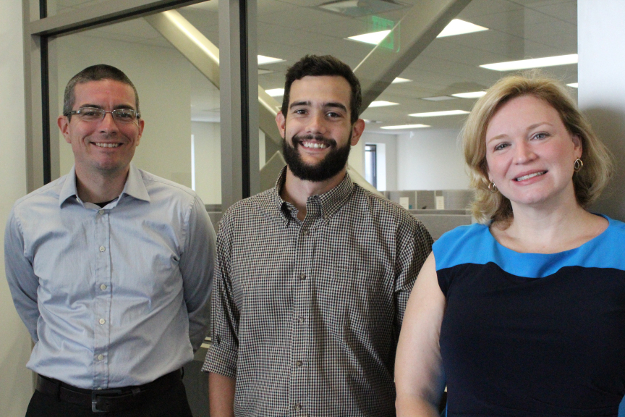 After coming to Western Michigan University Homer Stryker M.D. School of Medicine in 2013, Liz Lorbeer set about building the medical school's library from the ground up.
Now, more than three years later, that work has resulted in the construction of a completely digital biomedical collection consisting of 44 databases, more than 34,000 journal subscriptions and more than 146,000 book titles.
With all of that at her disposal, Lorbeer says the mission for her and her staff is very clear – to insure that WMed students, faculty and residents are successful.
"I've always felt that my job here is to make you as successful as possible and support that success," Lorbeer said. "I see that as a big role, tell me how I can make you successful. My goal is for you to receive the best education possible and, at the end of the day, you're able to provide the best patient care.
"I connect people to the world's knowledge. There's a lot of information out there … so I help you find the best possible information so that you can make an informed decision and be part of creating a healthier world."
The medical library's collection is available on any device to all current WMed students via the Internet. Also, a small print collection is available to all faculty, staff, residents and enrolled students and Lorbeer and her staff – Informationist Joe Costello and Digital Strategist Ethan Cutler – are focused on providing quality reference services for students, faculty, residents and staff at WMed.
Additionally, the WMed library collaborates with the libraries at Borgess Health, Bronson Healthcare and Western Michigan University to identify content of shared interest and regularly partners with the libraries in a resource-sharing agreement.
Lorbeer, Costello and Cutler are located in the Information Commons on the second floor of the medical school's W.E. Upjohn M.D. Campus. They also are available, by appointment, at the Victor A. Berglund, M.D. Medical Library at WMed's Oakland Drive Campus and meet regularly, by appointment, to provide information consults with WMed faculty and residents at other WMed locations, the Family Health Center, Borgess Medical Center, and Bronson Methodist Hospital.
"I want this space to be really warm and inviting," said Lorbeer, who regularly hosts tea for students after exams at the medical school. "It's a place to exchange ideas, a place to study with a purpose … It's everything you need.
"I built this library to meet people's needs here so it's really custom built for what we do," Lorbeer added. "We're not traditional at all. It's really for the users and I personally built it on an agile platform."
With all of that in mind, here's more about Lorbeer and her staff:
Liz Lorbeer, Medical Library Director; associate professor and chair of the Department of the Medical Library
Age: 42
Hometown: Buffalo, N.Y.; Moved to Kalamazoo in 2013
Undergraduate Studies: Majored in history at the University at Buffalo
Graduate Studies: Master's degree in Library Science from the University at Buffalo and a master's degree in education from Boston University
Work prior to coming to WMed: Associate director for Content Management at Lister Hill Library of Health Sciences at the University of Alabama at Birmingham School of Medicine.
Lorbeer on WMed Medical Library Resources: "We're always employing the latest technology that works for us and I think, being a new school, we have a lot of freedom to define what our library is to us as a community."
Joe Costello, Medical Library Informationist
Age: 35
Hometown: Grew up in West Tokyo, Japan; moved to Kalamazoo in 1996
Undergraduate Studies: Majored in telecommunication information management at Western Michigan University
Graduate Studies: Master's degree in Science in Information Systems from the University of Texas at Austin
Work prior to coming to WMed: Costello is a combat veteran who served in the U.S. Army for four years. He attended the University of Texas at Austin prior to coming to WMed in 2015 and, before that, worked in the medical library at Bronson Methodist Hospital.
Costello on WMed Medical Library resources: Costello, who is involved in the local arts community and describes himself as a quasi-poet, said he, Lorbeer and Cutler are here to help WMed students, faculty, residents and staff with anything "information related." "Folks in medicine always have difficulty finding time," Costello said. "We're really empowered here to alleviate burdens on their time. We're always happy to listen and help them find exactly what they're looking for and also help educate and work together with them and help them come up with really cool projects and really become critical thinkers in terms of assessing information sources."
Ethan Cutler, Medical Library Digital Strategist
Age: 26
Hometown: Plainwell, Michigan
Undergraduate studies: Majored in history at Grand Valley State University
Graduate studies: Master's degree in Library Information Science from Wayne State University
Work prior to coming to WMed: Cutler, who began working at WMed in July 2016, formerly worked part-time at the Kalamazoo College and WMU libraries.
Cutler on WMed Medical Library resources: "We are a digital library so any sort of questions or concerns or trouble in that realm, I'd love to help (students) out … Also, just in terms of their interests as far as research and other things regarded to their school work, whatever they need help with, I would be more than willing to help."