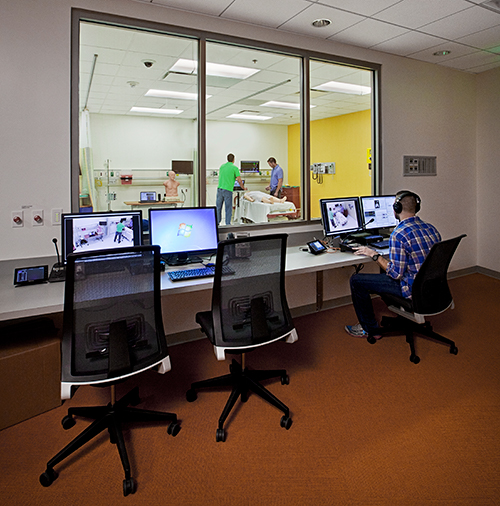 For Dr. Richard Lammers, the goal is simple – mold and develop more physicians capable of using simulation as a tool in medical education and, in turn, improve medicine and patient care.
That is the focus for Dr. Lammers, the medical school's assistant dean of Simulation, as WMed this month unveiled a new, one-year simulation fellowship.
"Simulation has become a key component in the curriculum of the medical school and medical education at all levels and not many people have had training experience and formal education in delivering simulation or using simulation as an educational tool," said Dr. Lammers, who is director of the fellowship. "When they're done, our fellows will be able to become a director of any simulation center in the country."
Recruitment for the new fellowship at WMed is underway with the hope of welcoming one or two fellows in July 2018. The new fellowship is the result of a process that Dr. Lammers said took 18 months.
The new fellowship is among more than 50 that currently exist across the country, Dr. Lammers said. All of the fellowships, at this point, are non-accredited fellowships, he said, because they are all still "too new."
The fellowship is designed for physicians who have graduated from an ACGME residency in any specialty. At WMed, Dr. Lammers said fellows will be immersed in an intensive and guided experience to develop them into experts, leaders and scholars in the field of simulation-based medical education.
Additionally, Dr. Lammers said fellows will have the opportunity to learn and work in the Simulation Center at the W.E. Upjohn M.D. Campus, a 24,000 square-foot facility that is the largest regional academic simulation center in Southwest Michigan. They will teach and work with the medical school's students and residents, practicing physicians and other medical providers pursuing certification in basic and advanced life support, as well as pediatric advance life support.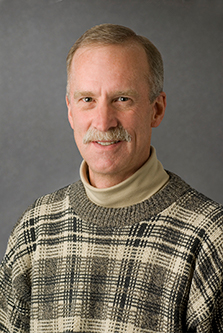 The Simulation Center features, among other things, a 13-bed virtual hospital with a large operating room and three debriefing rooms, a 12-bed ambulatory clinic, two large control rooms and two procedure labs.
"They will have a beautiful facility to work with, they will work alongside talented and industrious people at WMed who are faculty and directors and managers in the Simulation Center, and they will gain invaluable insights from our track record in simulation research," Dr. Lammers said.
Once at WMed, fellows will receive a faculty appointment as a clinical instructor and spend half of their time on fellowship-related activities in the Simulation Center at the Upjohn Campus and the WMed Simulation Center at Borgess Medical Center. The remainder of fellows' time, Dr. Lammers said, will consist of clinical practice in their respective specialty.
Dr. Lammers brings years of experience in simulation-based education to bear on the new fellowship. In addition to his duties as an assistant dean, he is a professor of Emergency Medicine and has published extensively on procedural training and performance assessment using simulation. In 2000, he introduced WMed's Emergency Medicine residency to simulation and, since then, he has expanded the use of simulation throughout the medical school's graduate medical education program.
He also played an integral role in designing the Simulation Center at the Upjohn Campus before its opening in 2014.
"If there is a difficult procedure or challenging case, the first exposure occurs in the Simulation Center," Dr. Lammers said. "The Simulation Center is a bridge between the classroom and the clinical setting."
In addition to Dr. Lammers, fellows will work with:
Dr. John Hoyle, a dual-boarded Pediatric Emergency physician and professor of Emergency Medicine whose current research interests include pre-hospital drug dosing errors in pediatric patients and procedural sedation protocols. Dr. Hoyle has numerous publications on a variety of topics in Pediatric Emergency Medicine.
Dr. Tom Melgar, a professor of Medicine and Pediatrics who has numerous years of experience conducting simulation-based procedural skills and ultrasound training sessions.
Dr. Diane Peirce, an assistant professor of Internal Medicine and scholar advisor in clinical skills for WMed medical students, who has experience in OSCEs and debriefing skills.
Vicki McKinney, PhD, an assistant professor and member of the medical school's Department of Medical Education, who has more than 20 years of experience in teaching, technology and research in medical and business education. Dr. McKinney specializes in curriculum development and assessment.
Sylvia Merino, MBA, MPH, the medical school's administrative director of Simulation, who has been working in healthcare delivery and education environments for more than 30 years. Merino has expertise in business administration, accounting, and educational and computer technology.
Constance Worline, RN-BC, MEd, the medical school's clinical director of Simulation, who came to WMed in 2013 after retiring as a Captain/USN after 26 years in Navy medicine. Worline leads the Simulation Center's Standardized Patient Program and and standardized educational courses.
Given his years of experience in simulation-based education, Dr. Lammers said he is excited about the opportunity – through the new fellowship – to train a new generation of physicians to use simulation as an educational tool.
"Any teacher is excited about training people who will follow in their footsteps," Dr. Lammers said. "That certainly applies here."
How to Apply
The application for the new simulation fellowship is now open. Interested applicants can send their curriculum vita or summarized educational portfolio, one letter from their residency program director and one additional letter of recommendation, and a cover letter describing their professional interests, experience with teaching and/or simulation, and future career goals to Dr. Lammers at richard.lammers@med.wmich.edu.