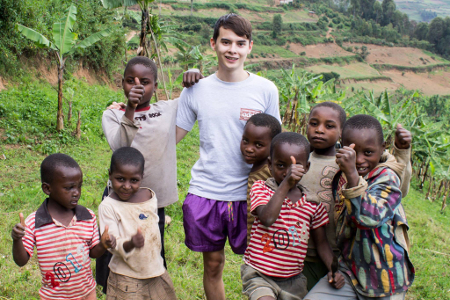 When he left the U.S. last year, foregoing his third year of studies at WMed to complete a prestigious, one-year Doris Duke International Clinical Research Fellowship, Philip Bystrom had his eyes set on a career in global health after medical school and working in underserved and underdeveloped regions of the world.
Now, he said, that desire has only been strengthened by the time he spent abroad in Uganda.
"The trip confirmed that I want to do something with global health," said Bystrom, who returned to WMed in July to restart his third year of medical school as a member of the Class of 2019. "I find infectious disease fascinating. I want to keep my mind open before I make a decision but this has definitely made me appreciate infectious disease.
"It's a stimulating and interesting specialty and such a vast field. There's a lot to study."
Bystrom, who completed his undergraduate studies at Kalamazoo College, was one of 18 students who were awarded a fellowship. The fellowships are administered through six medical schools, including the University of Minnesota, that have established global health research programs and each school offers three fellowships a year.
Bystrom got the opportunity to spend time in Mbarara, Uganda, where he conducted clinical research under the mentorship of David Boulware, MD, MPH, an associate professor of medicine in the Division of Infectious Diseases and International Medicine at the University of Minnesota. 
Bystrom said his time with Dr. Boulware was invaluable and he gained confidence in himself thanks to Dr. Boulware's willingness to let him have an active role in daily research and decision-making.
"It was kind of intimidating and I just kind of showed up out of nowhere," Bystrom said. "I was astonished at how much he treated me like an equal and not a student. That confidence I gained to make my own decisions is something I took away from the experience."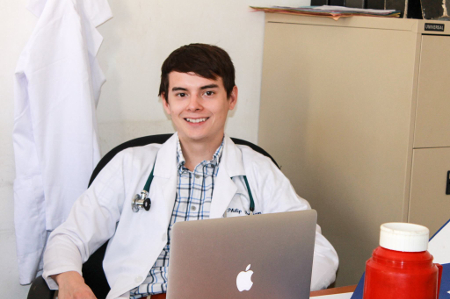 Bystrom presented his research on Dengue fever at a Doris Duke research conference and, this month, his work earned an American Society of Tropical Health and Hygiene Travel Award. With the award, Bystrom will get the opportunity to present his research in November at the ASTMH Annual Meeting in Baltimore.
"I'm very happy I took part in the fellowship," Bystrom said. "It was a really worthwhile experience … It gave me a really broad exposure to international health."
He said the hospital, which is located in western Uganda, had unpolished cement floors and patients slept in a large hallway on beds comprised of a box spring with cardboard on their tops. He said blankets and linens were provided by patients' family members who helped care for them at the facility. He said there were regular shortages of supplies such as saline and other basic drugs.
"It makes you realize what we take for granted here in the U.S.," Bystrom said. "Here, we have everything we could ever ask for as practitioners."
Bystrom said his research in Uganda included work with Dr. Boulware on a clinical trial examining the efficacy of adjunctive sertraline in the treatment of cryptococcal meningitis in HIV-positive patients. 
He also did research examining the accuracy of a new PCR-based test aimed at quicker detection of TB meningitis. The study, "Diagnostic Accuracy of Xpert MTB/Rif Ultra for TB Meningitis in HIV-infected adults: a prospective cohort study," was just recently accepted for publication in The Lancet Infectious Diseases, the world's leading journal in infectious diseases.
In light of his experience, Bystrom said he envisions himself – after medical school and residency – pursuing work where he can use his skills as a doctor to help patients who have been neglected by the healthcare system and don't have access to the types of resources that patients enjoy in the U.S.
"I like the cultural diversity of global health and the opportunities out there to work with people who are underserved and underprivileged," Bystrom said.
Now, back at WMed, Bystrom said he has gotten back into the swing of medical school and has completed clerkships in Family Medicine and Pediatrics and this month began a new clerkship in Psychiatry and Obstetrics and Gynecology.
He said he feels more prepared for his third year of medical school after spending a year abroad.
"I was pretty heavily involved in rounding and medical activities while I was abroad," Bystrom said. "I feel like I have more confidence in my abilities after spending a whole year doing clinical duties. I fell more ready for third year than I did when I left."