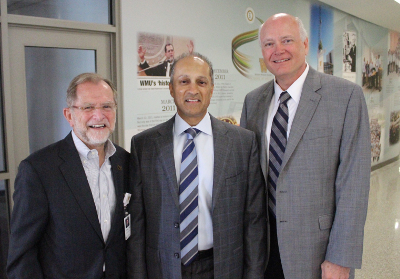 Kevin Lobo, Chairman and CEO of Stryker, was joined by Ronda Stryker and almost 300 local employees and leaders during the company's latest town hall meeting, which was held in the auditorium of the W.E. Upjohn M.D. Campus.
The quarterly meeting took place on Thursday, August, 3, 2017, and was streamed live to the company at its other U.S. and international locations.
During the meeting, the attendees got a chance to hear from WMed's founding dean, Dr. Hal B. Jenson, in a video that was shot at the Upjohn Campus and produced by Stryker. In the video, Dr. Jenson discussed the medical school's roots and its future.
"We are honored to have the name Homer Stryker M.D. as part of the name of the medical school," Dr. Jenson said. "Homer Stryker was not only an outstanding physician, but he was a great individual. The stories about his connections with the community and his connections with patients that are just very warming and really exemplify the best attributes of both a competent and a compassionate physician … His legacy that he leaves in Kalamazoo includes this medical school." 
"This next generation is a generation that really wants to be connected with the community and I think that resonates with our mission."
Typically, Lobo holds the town hall meetings at a Stryker office or division. However, given the medical school's namesake and strong relationship with the company, WMed was chosen as the site for the company's latest gathering.