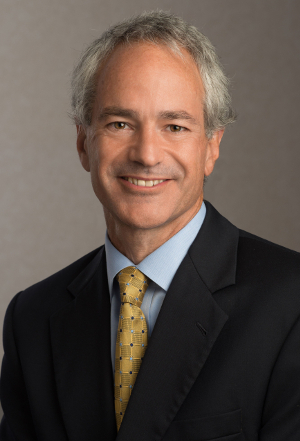 From the day he decided he wanted to be a physician, Dr. Robert G. Sawyer never questioned his desire to use his talents as a surgeon.
"It just seemed to me, of all the fields in medicine, to be the most exciting and challenging," Dr. Sawyer, an alumnus of University of Michigan Medical School, said recently. "I got that idea that it was an exciting thing to do."
For more than 30 years now, Dr. Sawyer has gained valuable experience as a clinician and educator and, in September, he took the latest turn on his career path joining WMed as the new chair of the medical school's Department of Surgery.
His new role at the medical school marks a return to Michigan for Dr. Sawyer. The son of a U.S. Army veteran, he was born in Germany and lived in six to seven different places in the U.S. before graduating from Mount Clemens High School and attending U-M. Dr. Sawyer's wife's family also is from Michigan and he and his brother own a cabin in Grayling.
"Ultimately, I decided that what I'd like to do is be in a great position to potentially enhance research and education in surgery, as well as mentor people to become surgeons and academic surgeons," Dr. Sawyer said of joining the faculty at WMed. "I think this is a very exciting position with WMed being a new medical school. We're in a position where we can try to do things better than other places have before … It really does feel good to come back here."
Prior to coming to WMed, Dr. Sawyer spent the last eight years serving in several leadership roles at the University of Virginia Health Sciences Center, most recently as vice chair for Clinical Affairs and Quality for the Department of Surgery. In 2015, he was named the C. Bruce Morton Professor of Surgery, and since 2008 has served as chief of the Division of Acute Care Surgery and Outcomes Research. For the past nine years he was director of the Surgical Critical Care Residency at the University of Virginia.
"It was fairly clear to me early on in medical school that I loved teaching and learning new things, and being in a place that was on the cutting edge of what medicine would be," Dr. Sawyer said. "I think right now at WMed we're in a situation where we can try new things and see if they work and be a little different than other places and use our creativity."
In addition to his work in medical education, Dr. Sawyer has been a leader in the clinical setting, serving as medical co-director of the University of Virginia Surgical-Trauma Burn Intensive Care Unit since 2001, and medical director of the University of Virginia Surgical Intermediate Care Unit since 2010, among several other roles.
Dr. Sawyer said much of what he has done in practice and research over the last decade has been focused on the treatment of critically ill surgical patients.
"I always wanted to take care of the sickest patients," he said. "I like challenges and the sicker the patients are, the more I think there is to learn scientifically and approach scientifically to try to improve outcomes. In my limited view of the world, the sicker you are the more opportunity there is to try to learn the science of why you're sick and how we can make you better."
Dr. Sawyer was accepted into medical school at U-M after high school and completed an integrated undergraduate program that allowed him to earn his bachelor's degree in Biomedical Sciences and his MD degree over a period of six years. After graduating from medical school in 1986, Dr. Sawyer completed his surgery residency at the University of Virginia Medical Center. 
While he was in training at UVA, Dr. Sawyer also completed a surgical infectious diseases fellowship. In 1996, he completed a transplant fellowship at U-M and, in 2003, he completed a surgical critical care residency at the University of Virginia Medical Center.
Dr. Sawyer is board certified in General Surgery and Surgical Critical Care, and is a certified nutrition support practitioner. He and his wife have four grown children.
As he settles in at WMed, Dr. Sawyer said he has been impressed with what he has seen so far in terms of undergraduate and graduate medical education, and clinical care in the Kalamazoo community. Going forward, Dr. Sawyer said he wants to expand the Department of Surgery's academic and research footprint at the medical school and in the community with the end goal of improving patient care.
"The goal is to improve care and, therefore, if we can meaningfully research and understand our own clinical practice here … the downstream effect is an improvement in clinical care," Dr. Sawyer said.