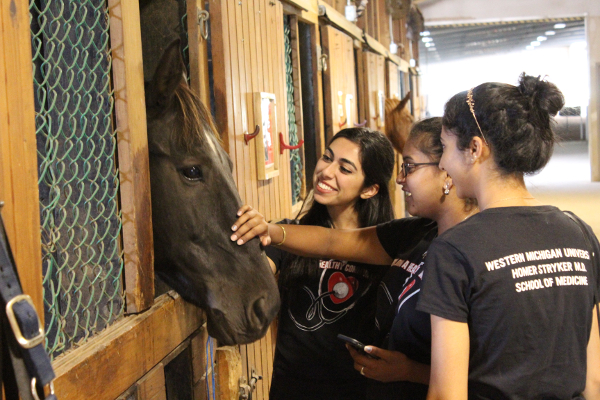 As she and a few of her classmates spent their day cleaning out horse stalls, sweeping floors and organizing holiday decorations at the Cheff Therapeutic Riding Center in Augusta, Jasmine Saeedian was thankful for the moment, thankful to take just a small break from medical school and her studies to give something back to the community.
"I think that the most important part of being here as a medical student is that, even though this isn't something that's medically related, we're able to partake in service," said Saeedian, a first-year student at WMed. "Something that really touched me as an applicant who was coming to WMed is that there's so much community involvement and, no matter what we're doing, we're able to partake in service and I think that knowing that we're all embarking on many years of study to pursue a career in service is not too distant from sweeping the stables and making sure that we're doing something that's serving the people around us."
Saeedian shared her thoughts on Wednesday, September 27, as she and the other 83 students in the Class of 2021 took part in a Day of Service throughout the Kalamazoo community. The Cheff Therapeutic Riding Center was one of eight sites where students spent time working on a variety of community projects with the goal of increasing their awareness of how how health disparities and social determinants affect healthcare outcomes. 
The Day of Service also focuses on the building of partnerships with community organizations and the development of teamwork skills and leadership. The projects give students first-hand and up-close experience with the needs of the Kalamazoo community and the projects reflect the medical school's commitment to community service.
The coordination for the sites for this year's Day of Service was done by WMed with the assistance of the United Way of the Battle Creek and Kalamazoo Region.
"We all went into medicine to go out there and help people but taking science courses, you kind of get away from that a bit," said first-year student Keshav Patel, who was part of a group of students who helped out at the Kalamazoo Gospel Mission. "So it's nice to kind of go out there and kind of do something where you're directly helping people and it's cool that we're not doing it in a medical environment … I feel like each community has different challenges and impacts so it's nice to see what's specific to Kalamazoo and how we can help both as future physicians and, not only as that, but just as a human being."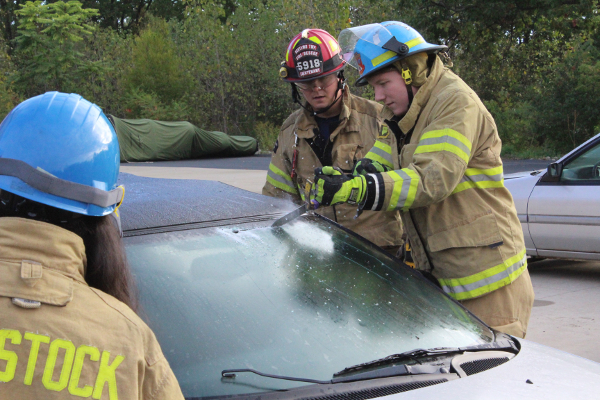 The Day of Service activities were part of the final week of what has been a busy September for the medical school's newest students.
Just one day after Day of Service, on Thursday, September 28, the students took part in the capstone event for Medical First Responder training. The all-day event was held at the Kalamazoo Regional Fire Training Center and consisted of several emergency scenarios, including a mass-casualty incident, reviving a pediatric drowning victim, delivering a baby in a sport-utility vehicle and treating a patient who had an allergic reaction to a bee sting.
The students also got a chance to practice rappelling and vehicle extrication.
The MFR capstone event is the conclusion of a seven-week course at WMed that qualifies the students for state and national certification as medical first responders.
MFR training, which begins for first-year students during their first week at WMed, is part of the medical school's curriculum, which provides earlier exposure to the clinical setting. The course equips students to respond when someone is ill or injured and provides them with instruction on basic procedures, including taking vital signs, CPR, bandaging and wound care and splinting, among other things.
Saeedian said she appreciated the chance to take part in both Day of Service and the MFR capstone event.
"I'm so grateful that WMed has provided us all with this opportunity to not only pursue our dreams and become physicians but to also be members of society and work with other people and have these cool experiences," she said.