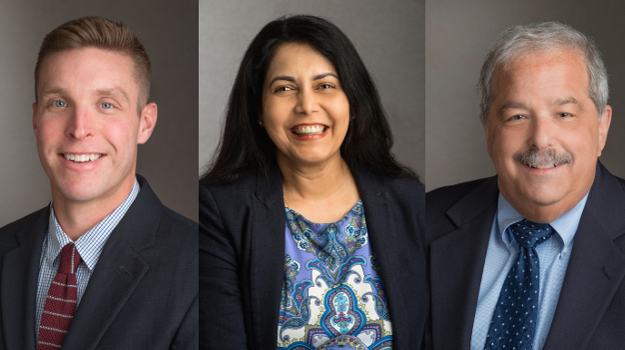 The medical school is pleased to welcome three new faculty members to it departments of Psychiatry and Pediatric and Adolescent Medicine, and the Program in Medical Ethics, Humanities and Law.
Parker Crutchfield, PhD, is an assistant professor in the Program in Medical Ethics, Humanities and Law. Dr. Crutchfield is an alumnus of the University of Michigan where he earned a bachelor's degree in Philosophy in 2003. He followed that up with a PhD in Philosophy from Arizona State University in 2011.
Prior to coming to WMed, Dr. Crutchfield spent four years at the Missouri School of Dentistry and Oral Health at A.T. Still University of Health Sciences where he was an assistant professor, served as the Director of Research, and worked as a scientist at the Still Research Institute. He also was the co-director and founder of the institution's Center for Oral Health Research and the executive director and founder of the Network for Community Oral Health Research.
Meanwhile, Shibani Kanungo, MD, MPH, has joined the Department of Pediatrics and Adolescent Medicine as an associate professor of Medical Biochemical Genetics. Dr. Kanungo completed her undergraduate studies and earned her MD degree from the I.M. Sechenov Moscow Medical Academy in Moscow, Russia.
After medical school, Dr. Kanungo earned a Master's of Public Health in Maternal and Child Health at the University of Illinois at Chicago. She served as a categorical pediatrics intern from 2004 to 2005 at the State University of New York-Stony Brook and then completed her residency in Pediatrics at the University of Kentucky. More recently, in 2012 and 2013, she completed a post-doctoral fellowship in Medical Genetics at the University of Pittsburgh and a fellowship in Medical Biochemical Genetics at the UCLA Intercampus Genetics Training Program, respectively.
Most recently, Dr. Kanungo served as the director of Newborn Screening and Metabolic Genetics for Geisinger Health System in Danville, Pennsylvania. She also served as a child advocate and scientific member of the health system's Institutional Review Board.
In the Department of Psychiatry, Bruce Ruekberg, MD, has joined the faculty as an assistant professor. Dr. Ruekberg is an alumnus of Michigan State University where he earned a bachelor's degree in Psychology. He completed his MD degree in 1980 at Rush Medical College in Chicago.
Dr. Ruekberg's training after medical school included a one-year Internal Medicine internship and then a two-year Internal Medicine residency at Rush Presbyterian-St. Luke's Hospital in Chicago. In 2003, Dr. Ruekberg earned his JD degree from the William Mitchell College of Law in St. Paul, Minnesota, and in 2009, he completed a residency in General Psychiatry and a fellowship in Child and Adolescent Psychiatry at the University of New Mexico.
Prior to his arrival to WMed, Dr. Ruekberg's most recent experience included his work as a psychiatrist at MSU and the Northern Arizona Veterans Administration from 2014 to 2017 and 2012 to 2014, respectively.