Thomas L. Rothstein obtained his MD and PhD degrees through the Medical Scientist Training Program at Duke University. He completed advanced clinical training in Internal Medicine and Hematology/Oncology at The George Washington University Hospital in Washington, DC and Beth Israel Hospital/Harvard Medical School in Boston, MA. He undertook advanced research training at the National Cancer Institute in Bethesda, MD and the Massachusetts Institute of Technology in Cambridge, MA.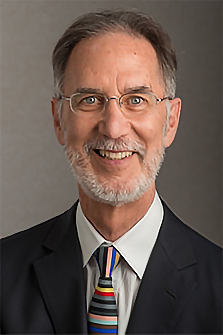 He was appointed Assistant Professor of Medicine and Assistant Professor of Microbiology and Immunology at Boston University School of Medicine/Boston Medical Center (Boston, MA) and rose to the position of full Professor, filling roles as Associate Chief for Research in the Section of Hematology/Oncology, as Director of the Immunobiology Unit, and as Director of the T32 Hematology Training Grant. He was subsequently recruited to the Feinstein Institute for Medical Research (Manhasset, MA) as Investigator, Professor in the Elmezzi Graduate School of Molecular Medicine, and Head of the Center for Oncology and Cell Biology.
Recently, Dr. Rothstein was named Assistant Dean for Investigative Medicine, Director of the Center for Immunobiology, and Professor of Biomedical Sciences at WMed.
Throughout his research career Dr. Rothstein has been continuously funded by the NIH, and has also received grants from the Lupus Research Institute, and the American Cancer Society. He has mentored over 50 graduate students and postdoctoral fellows in his laboratory. He has served on mulitiple review panels for NIH, the Arthritis Foundation, and the Lupus Research Institute. 
He is an elected member of the American Society for Clinical Investigation, the Association of American Physicians, and the Kunkel Society. Among his editorial duties he is Editor-in-Chief of Frontiers in B Cell Biology and a member of the editorial board for Cellular Immunology. He serves on the scientific advisory board for the Immunotherapy conferences sponsored by the Center for Molecular Immunology in Havana, Cuba, and was co-organizer for the Merinoff Symposium 2014: B-1 Cell Development and Function.
Research Focus
Our laboratory group is focused primarily on B lymphocytes (B cells) and the antibodies they produce. Within the universe of B cells, we maintain an intense interest in the subpopulation termed B-1 cells. These B-1 cells are present in mice and have been identified more recently in humans. B-1 cells constitutively generate antibodies that are especially effective at counteracting infectious pathogens, termed natural antibodies.
More recently these antibodies have been implicated in protection against cardiovascular disease and cancer. Because B-1 cell numbers and the level of natural antibodies decline with age, we have proposed that B-1 cell activity sets a rheostat for susceptibility or risk to a number of diseases of aging. Further, we speculate that B-1 cell-derived antibodies may be useful as therapeutic agents. We are exploring the origin of human B-1 cells, age-related changes in B-1 cells and the antibodies they produce, and the role of B-1 cells and B-1 cell antibodies directed against specific antigens in particular diseases, including tau (Alzheimer's Disease), MGO-apoB100 (cardiovascular disease), NGcGM3 (lung cancer), and PC (pneumococcal pneumonia). 
Many of these studies involve amplifying immunoglobulin genes from single sorted cells for sequence analysis and producing those antibodies in vitro for repertoire evaluation. These kinds of techniques are being applied to B cells extracted from cerebral spinal fluid to understand the nature of B cells there. Additional work focuses on the role of B-1 cells in promoting autoimmune diseases and in downmodulating sepsis.      
We maintain a longstanding interest in intracellular signaling events that initiate B cell responses to antigen. We are particularly focused on the interplay between IL-4R signals and the signaling cascade produced by surface immunoglobulin antigen receptor (sIg) engagement. IL-4 exposure before antigen receptor triggering intensifies the latter through operation of an alternate, signalosome-independent pathway. We have suggested that this IL-4-induced intensification of antigen receptor signaling plays a key role in the malignancy of chronic lymphocytic leukemia whose cells appear indolent in the periphery but expand during passage through tissue sites. We are working on understanding the mechanism that underlies crosstalk between IL-4R and sIg and how increased and alternate pathway signaling is programmed.
We also maintain a longstanding interest in the anti-apoptotic gene we cloned from inducibly Fas-resistant B cells and named FAIM, for Fas Apoptosis Inhibitory Molecule. FAIM has both short and slightly longer forms, the latter of which is restricted to the brain. FAIM is highly evolutionarily conserved and yet animals in which the gene has been knocked out are essentially normal, with only minor variation in B cells and antibodies. This has led us to speculate that FAIM is more involved with stress than with Fas-mediated apoptosis. We are working on understanding the interrelationships among FAIM, stress-related proteins, and various forms of cellular shock, such as heat and oxidative stress.   
Alongside these various projects we have begun studying a collection of pediatric hereditary anemias, an example of which is Diamond-Blackfan Anemia (DFA). These diseases are caused by mutation in one or another ribosomal protein and comprise a group termed ribosomopathies. Many questions remain unresolved, such as why anemia is the principal manifestation of a mutation that affects all ribosomes, and why the degree of anemia undergoes occasional, spontaneous  remissions and relapses. We are studying DFA in terms of how cellular stress is handled, the degree of susceptibility to apoptosis, and the effect of ribosomal dysfunction on B cell activity and antibody production.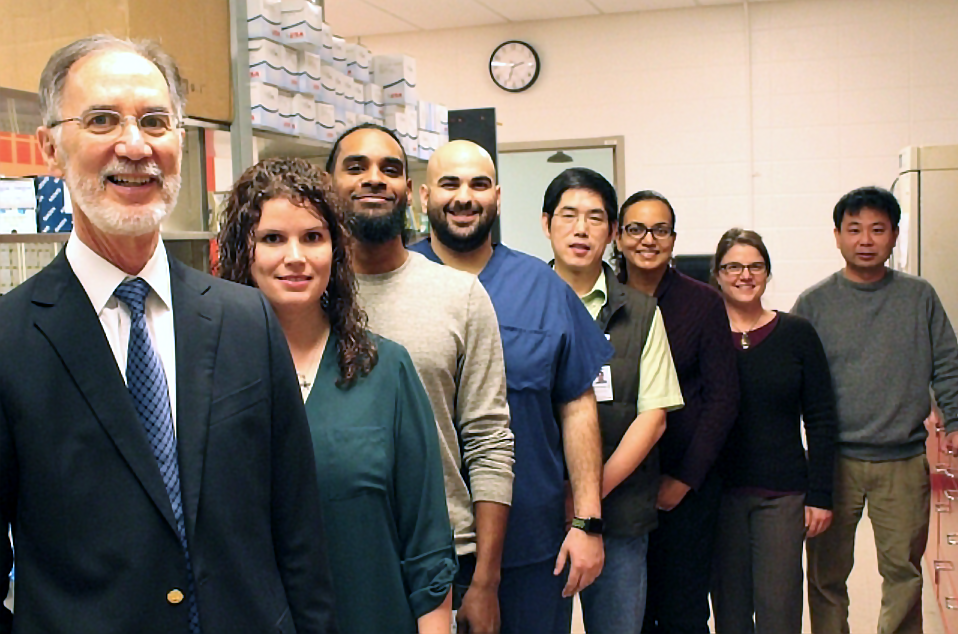 Lab Personnel
Hiroaki Kaku, PhD
Assistant Professor
hiroaki.kaku@med.wmich.edu
Sharon Singh, MD
Assistant Professor
sharon.singh@med.wmich.edu
Benchang Guo, PhD
Assistant Professor
benchang.guo@med.wmich.edu
Angela Brightwell, MS
Research Associate
angela.brightwell@med.wmich.edu
Stephan Owens, BS
Research Assistant
stephan.owens@med.wmich.edu
Alexander Ludlow
Research Assistant
alexander.ludlow@med.wmich.edu
Recent publications
Quach, T.D., T.J. Hopkins, N.E. Holodick, R. Vuyyuru, T. Manser, R.-L. Bayer, and T.L. Rothstein. 2016. Human B-1 and B-2 cells develop from Lin-CD34+CD38lo/- stem cells.     J. Immunol., 197:3950.  PMID: 27815443.
Guo, B., L. Zhang, X. Yan, N. Chiorazzi, and T.L. Rothstein. 2016. IL-4 rescues sIgM expression which enhances chronic lymphocytic leukemia cell activation initiated by BCR crosslinking.  Blood 128:553. PMID 27226435.
Rothstein, T.L. 2016. Natural antibodies as rheostats for susceptibility to chronic diseases in the aged. Front. Immunol. 7:127. PMID 27092140.
Holodick, N.E., T. Vizconde and T.L. Rothstein. 2016. Age-related decline in natural IgM function: Diversification and selection of the B-1a cell pool with age. J. Immunol. 196:4348. PMID 27183643.
Guo, B. and T.L. Rothstein. 2016. RasGRP1 is an essential signaling molecule for development of B-1a cells with autoantigen receptors.  J. Immunol. 196:2583. PMID 26851222.
Quach, T.D., N. Rodriguez-Zhurbenko, T.J. Hopkins, X. Guo, A.M. Hernandez, W. Li, and T.L. Rothstein. 2016. Distinctions among circulating antibody-secreting cell populations, including B-1 cells, in human adult peripheral blood. J. Immunol. 196:1060. PMID 26740107.
Kramer, J.M., N.E. Holodick, T. Vizconde, and T.L. Rothstein. 2016. Analysis of antibody production and repertoire in Sjögren's Syndrome. J. Leuk. Biol. 99:321. PMID 26382297.
Rothstein, T.L. and T.D. Quach. 2015. The human counterpart of mouse B-1 cells. Ann. N. Y. Acad. Sci. 1362:143. PMID 25988790.
Husain-Krautter, S., J.M. Kramer, and T.L. Rothstein.  2014.  The osteopontin transgenic mouse is a new model for Sjögren's Syndrome.  Clin. Immunol. 157:30. PMID 25572532.
Kaku, H., K.F. Cheng, Y. Al-Abed, and T.L. Rothstein. 2014.  A novel mechanism of B cell mediated immune suppression through CD73-expression and adenosine production.          J. Immunol. 193:5904. PMID 25392527.
Holodick, N.E., T. Vizconde, and T.L. Rothstein. 2014. B-1 cells that express CD138 frequently secrete large amounts of immunoglobulin. Front. Immunol. 5:129. PMCID 3975111.
Holodick, N.E., T. Vizconde, and T.L. Rothstein. 2014. B-1a cell diversity: N-addition in B-1a immunoglobulin is determined by progenitor population and developmental location.  J. Immunol. 192:2432. PMCID 3966105.
Guo, B., and T.L. Rothstein. 2013. IL-4 upregulates Ig and Ig protein, resulting in augmented IgM maturation, increased surface IgM expression and amplified BCR-triggered B cell activation. J. Immunol. 191:670.
Rothstein, T.L., D.O. Griffin, N.E. Holodick, T.D. Quach, and H. Kaku.  2013.  Human B-1 cells take the stage. Ann. N. Y. Acad. Sci. 1285:97.
Guo, B., and T.L. Rothstein.  2013. A novel Lyn-Protein Kinase C-Protein Kinase D axis is activated in B cells by signalosome-independent alternate pathway BCR signaling.  Eur. J. Immunol. 43:1643.