When he was pursuing his master's degree in Biomedical Sciences at Western Michigan University, Dr. Greg Vanden Heuvel conducted his master's research in what was then the Upjohn Company building in downtown Kalamazoo.
Now, nearly 30 years later, the building is home to WMed and Vanden Heuvel, a professor in the medical school's Department of Biomedical Sciences, is hard at work on research to stem the deadly effects of autosomal dominant polycystic kidney disease.
"There are no treatments for PKD," Dr. Vanden Heuvel said. "People who have PKD basically have a death sentence."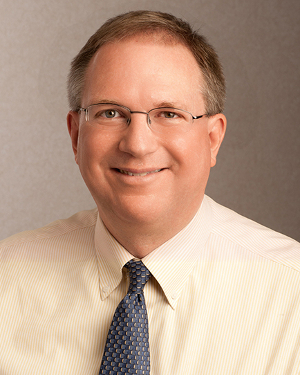 Autosomal dominant PKD is the most common genetic disease in the world and affects one out of every 400 people. It's a developmental disease that develops in utero and gets progressively worse throughout life as nephrons in the kidneys balloon out instead of elongating properly.
The disease causes eight to 10 percent of all cases of end-stage renal failure and medical care for patients with PKD comes with a price tag that averages $2 billion per year in the U.S., Dr. Vanden Heuvel said.
Dr. Vanden Heuvel's pursuit to understand more about the cause of PKD has been a 25-year journey that began when he was conducting postdoctoral research with the Division of Nephrology in the Department of Internal Medicine at Yale University from 1993 to 1997. During that time, Dr. Vanden Heuvel was part of a team of researchers that used fruit flies to clone the Cux1 and Cux2 genes from mice.
The west Michigan native is an alumnus of Grand Valley State University where he completed his undergraduate studies. After he graduated with his master's degree from WMU, Dr. Vanden Heuvel earned his PhD in cell and molecular biology at the University of Alabama-Birmingham Medical Center.
After completing his postdoctoral research at Yale, Dr. Vanden Heuvel made stops at the East Carolina University School of Medicine, the University of Kansas Medical Center, an institute that is nationally known for PKD research, and Wheaton College.
He arrived at WMed in 2013 and this spring he moved his labs from Wheaton College and the University of Illinois-Chicago to the W.E. Upjohn M.D. Campus in downtown Kalamazoo.
For the past three years, his research surrounding PKD has been funded by a $400,000 grant from the National Institutes of Health. In the spring of 2017, after he moved his labs to WMed, Dr. Vanden Heuvel received a one-year extension of the NIH grant.
Now at WMed, Dr. Vanden Heuvel said his research is continuing with the help of a group of learners that includes a first-, third- and fourth-year medical student, as well as five second-year students.
Since his time at Yale, much of Dr. Vanden Heuvel's work has centered on Cux1, which his research has shown promotes cell proliferation and the progression of ADPKD in genetically altered mouse models.
Dr. Vanden Heuvel said the research he has conducted has shown that the Cux1 protein is required to cause ADPKD and it does so by acting as an inhibitor of p27, a tumor-suppressor gene. Dr. Vanden Heuvel said Cux1 acts as an inhibitor of p27 through histone deacetylases (HDACs). What has also been determined through the use of mice models, he said, is that reducing Cux1 causes a reactivation of p27 and an increase in lifespan.
In addition to his research, Dr. Vanden Heuvel has been working with Metabolic Solutions, a biotechnology company in Kalamazoo, on a drug treatment for PKD that would inhibit the HDACs the Cux1 protein uses to repress the p27 gene.
He also is already in the process of setting the stage to apply for an extension to his current NIH grant. If the extension is granted, Dr. Vanden Heuvel said his research will be directed at learning specifically how Cux1 inhibits p27 and understanding more about exactly when the disruption in cell proliferation that drives PKD occurs.
"We want to really zero in on where and when would be the most beneficial time to start drug treatments to try to slow down PKD," he said.
Dr. Vanden Heuvel said most patients with PKD live only into their 50s. With the strides he is making in his research, he said he is hopeful that someday a drug treatment could extend the lives of PKD patients into their 70s and 80s.
"The other thing is quality of life," Dr. Vanden Heuvel said. "The disease doesn't just affect the kidneys. It also affects the liver, pancreas, and the vascular system, where it causes aneurysms."