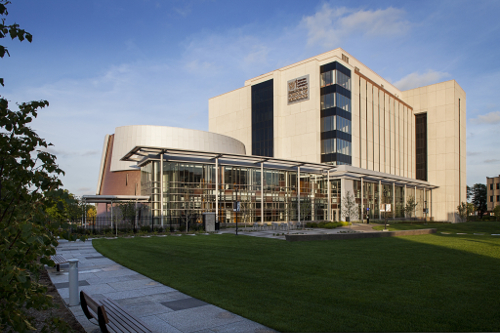 When it comes to governing relationships between the medical school and pharmaceutical and medical device companies, WMed's conflict-of-interest policy for faculty, residents, students and staff gets high marks from the American Medical Student Association.
WMed is one of 42 institutions with an A grade – the highest mark possible – on the 2016 AMSA Scorecard, the most recent survey of COI policies at 175 different institutions.
"This is a shout to the world that we are trying to take away bias in your education, as well as bias in research, and if there is bias, we want to manage it," said Jered B. Cornelison, PhD, the medical school's Research Integrity Officer and an assistant professor in the Department of Pathology.
In 2016, Dr. Cornelison worked with Dr. Hal B. Jenson, WMed's founding dean, to revise the medical school's policies around students' and employees' interactions with pharmaceutical, biotechnology and medical device companies. Some of the key changes included more stringent guidelines pertaining to gifts, gratuities and payments, as well as the prohibition of involvement of WMed personnel in company sponsored promotional programs.
Additionally, Dr. Cornelison said employees complete annual conflict of interest disclosures and computer-based learning modules about conflict of interest, and students attend two to three sessions about conflict of interest during their first two years of medical school, including a panel discussion with faculty and representatives from the pharmaceutical and medical device industries.
"We can never go wrong as long as we follow the rules and are transparent," Dr. Cornelison said.
On the AMSA Scorecard, medical schools were graded based on 14 different criteria, including gifts, meals, speaking relationships, continuing medical education, promotional events, ghostwriting, and COI curriculum, among other criteria.
In each criterion, medical schools were given a grade of model, good or poor/absent. WMed received a score of "model" in 11 of the 14 criteria.
According to the AMSA website, the 2016 Scorecard represented the first study to identify schools with COI policies stronger than those recommended in 2008 by the Association of American Medical Colleges (AAMC). The Scorecard keeps with AMSA's campaign to advocate for evidence-based rather than marketing-based prescribing practices and the removal of conflicts of interest in medicine, according to the AMSA website.
Cornelison said the medical school's standing on the 2016 AMSA Scorecard is important in exhibiting WMed values as a national model for how it handles conflict of interest and other research integrity issues.
"From a student perspective, you're going to see, whether it's this policy or others, that the institution is trying to maintain high ethical standards in how we do education and research," he said. "From a faculty standpoint, it relieves them of those outside pressures and allows them to do their work in an unbiased environment and know they have a policy that protects them."