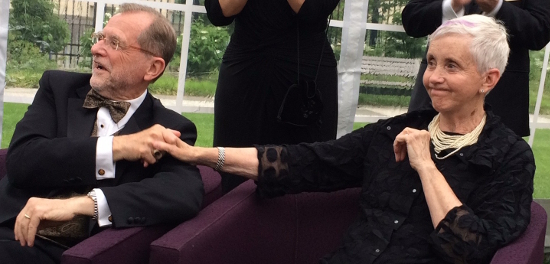 The executive board room at the W.E. Upjohn M.D. Campus will soon be known by a different name – the Dr. John M. and Linda T. Dunn Executive Board Room.
The naming of the third-floor conference room is in recognition of a significant gift to WMed from the Dunns that was officially announced on Wednesday, November 28, 2017, during a special donor reception at the Upjohn Campus.
"We're really quite proud of the development of the medical school," Dr. Dunn said. "I met the other day with a major donor who commented that the medical school has exceeded everyone's expectations. He's right and Linda and I are proud to be associated with WMed."
Dr. Dunn, who retired as president of Western Michigan University in August, is a professor emeritus at the medical school and president emeritus of WMU. It was Dr. Dunn, through his visionary leadership and relentless passion, who championed the medical school beginning in 2007 and garnered broad support, enthusiasm, and engagement for the new endeavor from the university, Kalamazoo's two hospitals – Borgess Health and Bronson Healthcare -- donors, and the community.
In 2011, WMed was formed through a collaboration of WMU, Borgess Health, and Bronson Healthcare. President Dunn served as the founding Chair of the Board for the medical school.
Dr. Dunn said he felt that the executive board room was a fitting location at the medical school to bear his and Linda Dunn's names given his time as Chair of WMed's Board of Directors. He also said it was proper given that activities that occur in a board room should represent a team effort much like the team he and Linda have formed throughout their lives as husband and wife.
"Linda has always been very, very supportive and helpful," he said.
Dr. Hal Jenson, WMed's founding dean, expressed gratitude for the Dunns and their continued support of the medical school.
"We appreciate President Dunn's many contributions, which now include this personal gift from he and Linda," Dr. Jenson said. "This type of philanthropy is transformational for the institution and is the type of leadership gift that we need as we move forward."
The Dunns will be honored soon at a naming ceremony for the executive board room. A date and time for the event will be forthcoming.