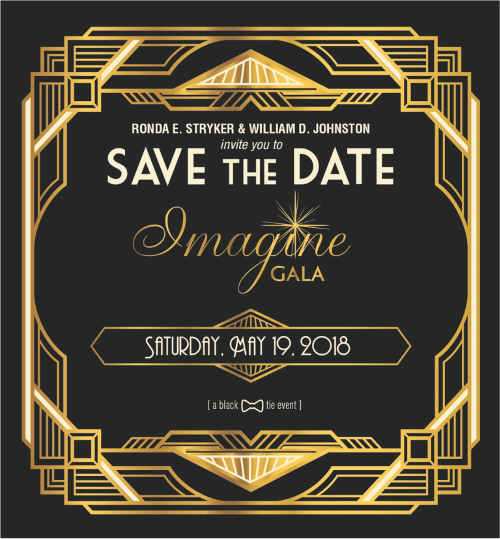 The medical school's founding donors – Ronda E. Stryker and William D. Johnston – will serve as the distinguished hosts for the 3rd annual Imagine GALA.
The black-tie affair, an exclusive, signature event replete with fine dining, fun and dancing, will be held on Saturday, May 19, 2018, at the W.E. Upjohn M.D. Campus in downtown Kalamazoo. 
The event benefits WMed's Early Introductions to Health I and II pipeline programs, an initiative that champions the biomedical science and healthcare career aspirations of underrepresented youth in Southwest Michigan. The pipeline programs provide science education and enrichment for elementary and high school students with the goal of increasing the diversity among youth who pursue careers in the fields of bioscience and healthcare.
The pipeline programs are based at the medical school and are part of a collaboration between WMed, Western Michigan University's College of Health and Human Sciences, and Kalamazoo College.
Guests at the Imagine GALA receive the red-carpet treatment, including drinks and great food courtesy of the Millennium Restaurant Group, and nighttime dancing and music. For this year's event, the W.E. Upjohn M.D. Campus will be transformed into a venue reminiscent in look and style of that of "The Great Gatsby". 
The medical school is proud to have Ronda Stryker and William Johnston as its distinguished hosts for the gala. Their generosity helped fuel the vision of a new medical school in Kalamazoo and led to WMed becoming a reality in 2014. WMed is named after Ronda Stryker's grandfather, Dr. Homer H. Stryker.
The 3rd annual Imagine GALA will feature music from Entourage, one of the hottest dance bands in Chicago. The band combined forces in 2015 with bandleader and vocalist Leslie Hunt, a former contestant on American Idol.
Reservations for the gala are limited. To make a reservation and learn more, click here.