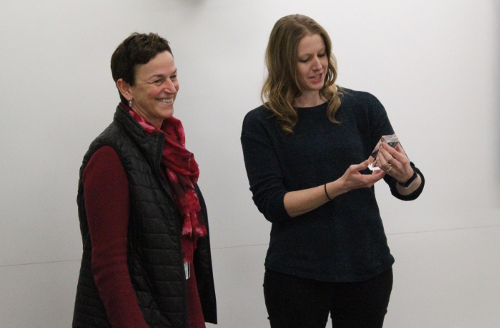 Surrounded by several students from the medical school's Class of 2019, Sue Fales reacted with surprise at being honored as the recipient of the 2017 OSCEr Award.
"Everyone does such a great job," Fales said of her fellow standardized patients in WMed's Simulation Center. "I feel sort of awkward."
Members of the Class of 2019, though, felt Fales was more than deserving of the award, and voted to recognize her for her outstanding and valuable work as a standardized patient at the medical school. She was honored during a short presentation of the award on Monday, December 18, 2017.
The name of the award is a play on the acronym OSCE for Objective Structure Clinical Examination, which medical students practice regularly with Fales and other standardized patients. The first-ever OSCEr Award was given last year by members of the Class of 2018 to Tracey "Doc" Doxzon.
"I think she's really relatable and expresses a real sincere interest in us," Nathan Whelham, a third-year student and president of the Class of 2019, said. "That's the main reason (for the award), that investment."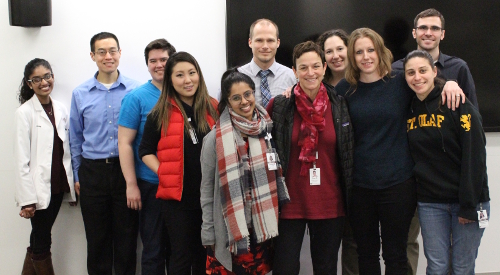 Standardized patients who work in the Simulation Center act out scripts or patient cases as students practice conducting physical exams, taking patient histories and improving their communication skills. They are trained to assess the skills of each medical student they interact with and examine how the students respond to certain scenarios. The information is recorded by standardized patients and they provide feedback to the students on their performance.
Fales said she enjoys that her job as a standardized patient "is so much fun." She said the best part of her job, though, is seeing the improvement students make in their ability to communicate with – and care for – standardized patients.
"To see that big change is so exciting for the standardized patients," she said.
Third-year student Katherine Han said she has always appreciated Fales' calm demeanor when working with Han and her fellow classmates, and how she helped Han feel at ease when she was doing a scenario or exercise for the first time in the Simulation Center.
"Sue has been very patient and kind during the workshops in sim lab, and I know that it's always going to be a great day when I see her around," Han said.