The commencement for WMed's inaugural Class of 2018 was held on Sunday, May 13, 2018 at WMU's Miller Auditorium. Our 48 students in the inaugural MD class were joined by their families and friends, and the community to celebrate what was a momentous occasion. The ceremony was followed by a short reception in the Miller Auditorium Atrium. You can review the commencement program to learn more about our graduates or take a look at more than 600 photos from the commencement on the WMed Flickr page.
If you weren't able to attend the commencement, take a look at highlights from the event below or check out a video of the full ceremony.
Class of 2018 Commencement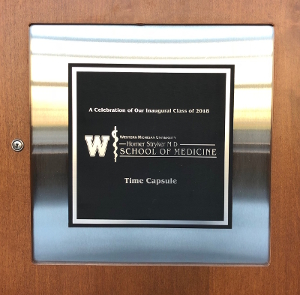 Class of 2018 Time Capsule
In honor of WMed's inaugural Class of 2018, a time capsule is housed and visible in the main entrance of the W.E. Upjohn M.D. Campus. The time capsule includes several memorabilia from 2014 to 2018. The time capsule will be reopened in 25 years.
Included in the time capsule is a video message that was recorded in March 2018 during Match Week for the inaugural class. In the video, which can be viewed below, the students discuss where they expect to be in 25 years and reflect on their most valuable experiences at WMed.