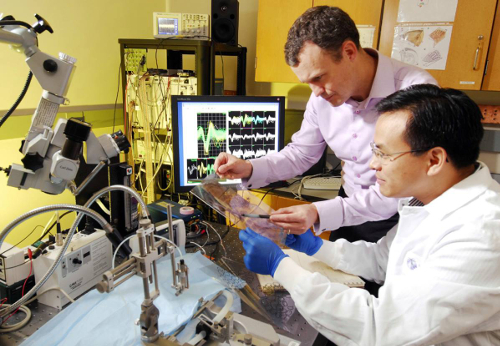 During a successful career that has spanned some two decades, Tycho K. Fredericks, PhD, says his success as an educator and engineer can be tracked back to a question he is never afraid to ask – 'Why do you do it that way?'
"That's the way I was trained," says Dr. Fredericks, a professor of Industrial and Entrepreneurial Engineering and Engineering Management at Western Michigan University. "There are always other ways to do things and sometimes having outside eyes looking at something will help you do that."
That philosophy is the engine behind the new Master of Science degree in Medical Engineering at the medical school. The interdisciplinary, graduate-level program at WMed is for engineers and quantitative scientists with an end goal in mind – creating new medical devices and process to improve healthcare.
The application deadline for the new master's program is June 1, 2018, and classes will begin in September. The inaugural class will be limited to six students with plans to grow the class size to 16 students in the future.
For Dr. Fredericks, who serves as Program Chief and professor in Medical Engineering at WMed, the start of classes and the launch of the new curriculum in September is the culmination of what has been a seven-year process to implement a program that will immerse students into the world of healthcare with a focus on the interface between medicine and engineering.
"Our mission is to train professionals and create technologies to improve healthcare," Dr. Fredericks said.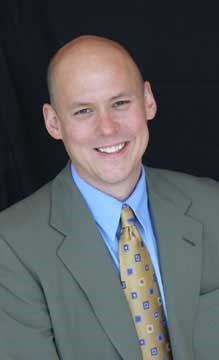 During the master's program, students will complete five courses at the medical school and three courses at WMU. In the first year, students will get the chance to choose a specialty track that fits best with their career goals. That list includes biomechanics and biomaterials, biological signal processing, sensors, and instrumentation, or healthcare systems engineering. As part of their education, students will interact with diverse groups of professionals, from engineers and clinicians to surgeons and residents, as well as nurses, medical technologists and business and regulatory experts.
Dr. Fredericks said a key component of the new master's program is the first 15 weeks of instruction, which will immerse students in healthcare where they will get an up-close look at the inner workings of clinical settings in Southwest Michigan. That step, he said, is vitally important so that students gain a deeper understanding of the discipline of medicine and, in turn, can begin assessing and identifying where they can use their skills to improve processes and instruments.
"One of the hardest things for engineers to break in to is healthcare itself," Dr. Fredericks said. "It's not a complex system, it's a complex collection of systems … The big piece here and what's going to make this so exciting is the immersion in those systems."
At the conclusion of the master's program at WMed, students will take part in a final capstone, completing either a thesis or a medical engineering design project. The work by students, Dr. Fredericks said, will focus on "a real problem that's scalable" and could focus on such things as improving the design of an existing product, or on processes that could reduce patient wait times, among other things.
Dr. Fredericks described the curriculum for the new master's program as "quasi-fluid" and said that it will be built around the students' capstone projects.
"It's customization for education, in a sense," Dr. Fredericks said. "For us, it's about the student. You don't dictate your agenda on the students, it's more about helping them become the best version of whatever they're going to be down the road. We're going to help them learn the structure of healthcare."
In launching the new program, Dr. Fredericks is supported by faculty that includes Drs. Keith Kenter and Robert Sawyer, chairs of the medical school's departments of Orthopaedic Surgery and Surgery, respectively, as well as Sandra Cochrane, assistant dean of the WMed Innovation Center, and staff from the Department of Educational Affairs. The program's roster of professors also includes several faculty from WMU who have been instrumental in the creation of Medical Engineering at the medical school. That list includes Steven Butt, PhD, chair of WMU's Department of Industrial and Entrepreneurial Engineering and Engineering Management, as well as Ikhlas Abdel-Qader, PhD, professor of Electrical and Computer Engineering; Peter Gustafson, PhD, associate professor in the Department of Mechanical and Aerospace Engineering; Fahad Saeed, assistant professor in the Department of Computer Science, and James Springstead, PhD, assistant professor in the Department of Chemical and Paper Engineering.
Dr. Fredericks said each faculty member in WMed's Department of Medical Engineering brings to the table experiences that will serve students well as the new master's program begins its inaugural year.
He and Dr. Butt have a relationship that spans 20 years and has included research and collaboration on products and system development for companies like Haworth and Stryker. Their work, for example, included a research project that led to the development of Haworth's well-known Zody desk chair and the chair's self-selected back support feature.
Dr. Fredericks said each faculty member has their own "thing" that makes them and their experiences unique. For example, Dr. Springstead has been published in Science. Meanwhile, Dr. Gustafson is a member of a team at AIM Tech, a medical technology company that developed NeoVent, a respiratory therapy device designed for premature newborns that runs without power and provides noninvasive pressure ventilation at 1/100th the cost of current ventilators.
"The process for birthing this program began in 2010," Dr. Fredericks said. "We are all extremely passionate about it. We've personally invested a lot."