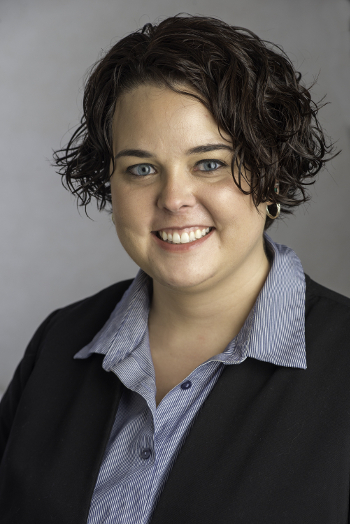 In December, Dr. Elizabeth L. Albright graduated from the Family Medicine Residency Program at WMed.
Now, she is the newest faculty member in the medical school's Department of Family and Community Medicine. Dr. Albright began her duties as an assistant professor on Monday, January 22.
Dr. Albright brings a breadth of experience to her new role at WMed. She is a veteran and an alumna of Ferris State University where she earned a bachelor's degree in Applied Biology: Pre-Medicine Concentration in 2010. 
That same year, she was commissioned as a second lieutenant in the U.S. Air Force and was promoted to captain in 2014 after earning her DO degree from the  Michigan State University College of Osteopathic Medicine.
After medical school, Dr. Albright completed a one-year Family Medicine internship at Eglin Air Force Base Hospital in Florida and completed a one-year residency in Family Medicine there before separating honorably from the Air Force in August 2016.
Dr. Albright came to WMed in December 2016 where she served as senior resident. Before completing her training in December 2017, she served as a mentor to junior residents and medical students during inpatient and ambulatory rotations. She completed her training at WMed in December 2017.
More recently, Dr. Albright was accepted into the Sports Medicine Fellowship Program at Penn State University. During her time at Eglin AFB and WMed, she gained a vast amount of experience in sports medicine. From 2015 to 2016, she helped provide sports physical care for more than 1,600 underprivileged high school and middle school students during the Andrews Institute Annual Sports Physical Day. In April 2016, she also coordinated resident physician coverage for a local Wounded Warriors event, and provided on-call coverage for acute care issues during the event.
In November 2016, she was part of the medical staff that provided post-race medical care for participants in an Ironman event in Panama City, Florida. Once she arrived in Kalamazoo, Dr. Albright provided coverage at the USTA Boys 18/16 National Tournament at Kalamazoo College and also provided sideline coverage for high school varsity football games at Schoolcraft and Vicksburg high schools.
In addition to the experience she has amassed, Dr. Albright's resume includes several awards and honors, volunteer work and several presentations and research publications. She's a member of several medical and scientific societies, including the American Medical Society for Sports Medicine, the American Osteopathic Academy of Sports Medicine, The American College of Sports Medicine, the Uniformed Services Academy of Family Physicians and the Association of American Family Physicians.
Dr. Albright will complete her one-year fellowship in Sports Medicine at Penn State University beginning in July 2018. After completion of her fellowship, Dr. Albright is expected to return to WMed in 2019.