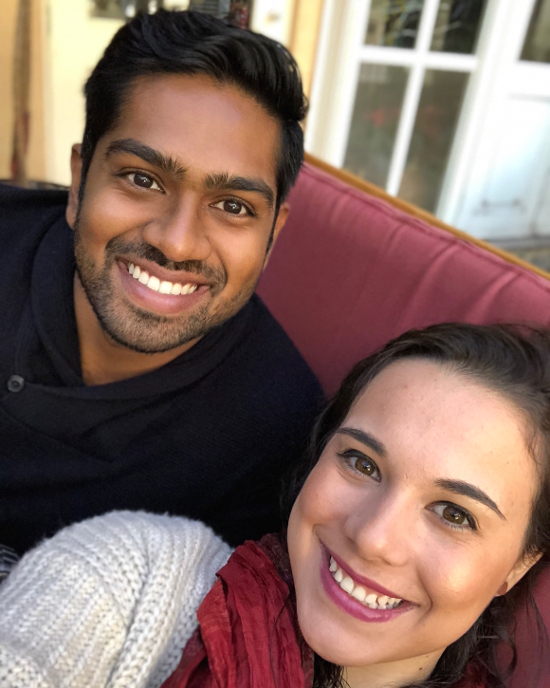 The way they remember it, Ana Villalobos and Sai Dalavayi's friendship blossomed almost from the moment they arrived to WMed as members of the inaugural MD class of 2018.
They lived with classmates in the same apartment complex in Kalamazoo and hung out regularly. Over time, Dalavayi said, he developed a crush on Villalobos but kept it to himself.
Then, in August 2015, just a few months into their second year of medical school, Dalavayi decided to take a chance.
"Eventually, I figured, 'Why not?'" he said. "I might as well ask her on a date."
So, that day in August, Villalobos said, Dalavayi came into a group room at the W.E. Upjohn M.D. Campus where she was studying. He was flustered, she said, and told her he needed to ask her a question – would she go on a date with him?
If Dalavayi was hoping for a yes, he didn't get the answer right away. Instead, Villalobos said, she told her friend she needed to think about his request before making a decision. Later that day, she texted him her answer – yes.
From that day, Villalobos and Dalavayi's friendship grew into a relationship and, in October 2017, they were engaged, as Dalavayi surprised Villalobos with a ring as the two were on a walking tour in the French Quarter of New Orleans.
"He got down on one knee," Villalobos said of Dalavayi's marriage proposal. "I was happy but there were so many people … He asked me and then I cried. We're very excited."
Now, as they near the end of their time at WMed and prepare for Match Day and graduation, Villalobos and Dalavayi are one of four couples at the medical school who are taking part in the Match as a couple, seeking to complete their residency training together at the same institution or in the same city.
Match Day for the Class of 2018 will be held on Friday, March 16, 2018, at the Bernhard Center at Western Michigan University. On Sunday, May 13, 2018, the students will graduate from WMed during a ceremony at Miller Auditorium that will be open to the public.
After Match Day and graduation, beginning on July 1, 2018, WMed students will begin practicing medicine in the specialty of their choice as residents in a clinical setting under the supervision of fully licensed physicians.
The Main Residency Match is an annual process that begins in the fall for applicants, usually in the final year of medical school, when they apply to residency programs at which they would like to train. Program directors review applications and conduct candidate interviews in the fall and early winter. From mid-January to late February, applicants submit to the National Residency Match Program (NRMP) their rank order lists of preferred programs, and program directors rank applicants in order of preference for training. The NRMP uses a computerized mathematical algorithm to match applicants with programs using the preferences expressed on their ranked lists.
According to the NRMP, participating in the Match as a couple allows two applicants to link their rank order lists. Those lists are then used to form pairs of program choices that are considered by the algorithm and couples will match to the most preferred pair of programs on their rank order lists where each applicant is offered a position.
For Villalobos and Dalavayi and the other couples at WMed, taking part in Match Day is something that fills them equally with excitement and trepidation. They are ready for the next step after medical school, looking forward to the opportunity to use what they've learned at WMed as doctors in residency training. At the same time, they are nervous for Match Day, opening their envelopes and learning where they will spend the next three to seven years of their lives.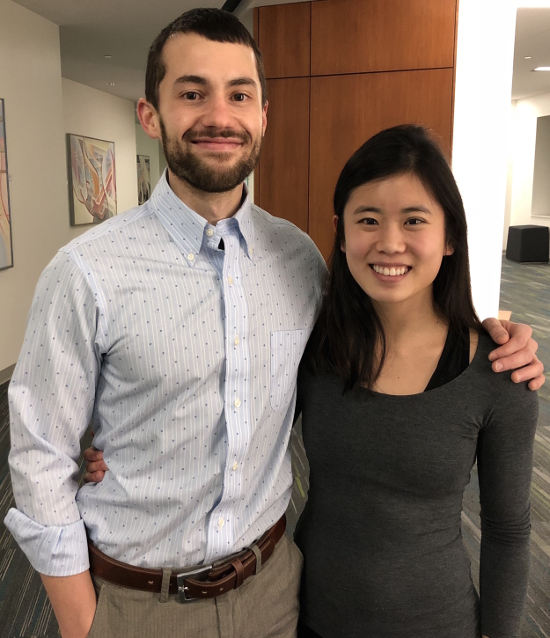 "I try not to think about it very much but I always do that before an event like Match Day where I'm kind of low key and I act like everything is cool, but then the day of, my palms are sweaty, I get lightheaded and all of my emotions come through," said M4 Heather Chen, who is taking part in the Match with her boyfriend and fellow M4, Sam Yost.
Chen and Yost began dating a few weeks after starting classes at WMed in 2014. Now, she is seeking a residency in Pathology and Yost is hoping to complete his training in Obstetrics and Gynecology.
Overall, Chen said she applied to 39 residency programs and received 33 invitations for interviews. Eventually, she took part in 15 interviews. Yost applied to 42 residency programs and received invitations to 12 interviews. He said he took part in 11 interviews. 
Meanwhile, Tarannom Shoghi and Arad Abadi are planning to complete their residency training in internal medicine and surgery, respectively, when they graduate from WMed in May. The couple met at the medical school and in October 2016 they were married during a ceremony in Corona, California.
"Our emotions oscillate between fear and excitement at a quick pace," the couple said recently of their preparations for Match Day. "We are excited to realize where we will live out the next chapter of our lives and to create a new home for ourselves. Yet, it is terrifying to think that soon, we will be known as physicians, with all the responsibilities that it entails."
In all, Shoghi said she applied to 61 residency programs and received invitations to 36 interviews. She participated in 18 of those interviews. Meanwhile, Abadi applied to 65 residency programs. He received invitations to 20 interviews and took part in 16.
Villalobos and Dalavayi said they each applied to more than 100 residency programs. Villalobos is hoping to complete her residency training either in pediatrics or a five-year program combining pediatrics, psychiatry and child psychiatry. Dalavayi is pursuing a residency in surgery.
"I'm trying not to think about it," Dalavayi said of Match Day. "We've done everything we can within our power so all that's left is to be excited about the prospects of it all."
Villalobos said she's excited, as well, but also "super scared." Prior to Match Day, she said she will try to take her mind off of the big day by taking part in WMed's three-week international health elective in Peru while Dalavayi completes an emergency medicine rotation at Borgess Medical Center in Kalamazoo.
"I know most of (the fear) is irrational because we did well," Villalobos said. "We're good applicants, we did well on our interviews … I'm excited for the next step."
Villalobos said she plans to let Dalavayi open his envelope first on Match Day. She said she'll watch for his reaction and then open her envelope.
"We're excited but it's scary," Dalavayi said.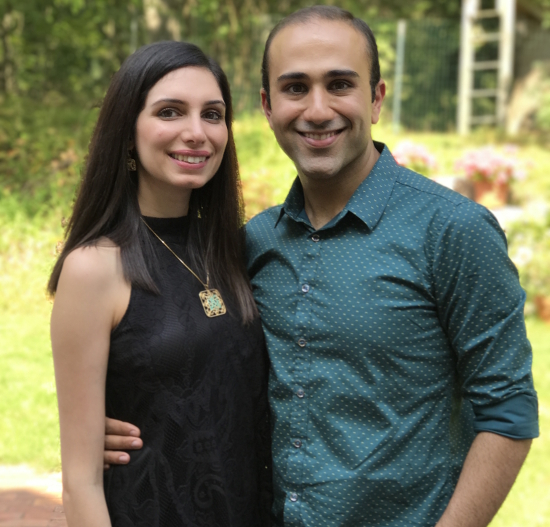 Either way, Match Day will be a culmination for the couple, as well as Chen and Yost, and Shoghi and Abadi. The day will mark a major milestone for all of them, for their classmates, for the medical school.
The day will also serve as a reminder of how their journeys to WMed began and how each couple's paths have converged.
Chen and Yost are both Michigan natives. Chen was born at Borgess Medical Center and lived in Kalamazoo until the age of 12 when her family moved to Connecticut for her father's job with Pfizer Inc. Later, the family moved to California where Chen studied integrative biology at the University of California, Berkeley. Yost, meanwhile, grew up in Midland and completed his undergraduate and graduate studies at Saginaw Valley State University and the University of Michigan, respectively.
Later, he worked in hospital administration in Detroit before moving to California, where he completed his prerequisite courses for medical school at Santa Monica College.
Like Chen, coming to WMed was a return to Kalamazoo for Villalobos. She grew up in Mexico and moved to Michigan when she was 16 years old for her father's job with Kellogg's. She graduated from Hackett Catholic Prep in 2010 and completed one year at Grand Valley State University. She later completed her undergraduate studies at Baylor University after her family moved from Kalamazoo to Houston.
Dalavayi is a native of metro Detroit and completed his undergraduate studies at Wayne State University before coming to WMed.
Meanwhile, Shoghi and Abadi were both born in Iran and moved to the U.S. when they were 18 and 16 years old, respectively. Shoghi later attended UCLA while Abadi attended the University of Washington as an undergraduate and then went to graduate school at Fordham University.
As they prepare for residency, each couple said they have been buoyed by their time at WMed. They said the instruction they've received at the medical school has prepared them for residency and the next step in their journey.
"It has been a unique experience," Abadi said. "Being part of a new medical school and making history, helping shape the culture and experience of medical school for the classes to come has been very rewarding. As a new school, there were some changes that needed to be made along the way but the fact that the school was responsive to students' feedback made it easier and we felt like our voices mattered and it was an empower experience.
"Lastly, it was an amazing experience to know all the faculty and staff and have them know you on a first-name basis … It felt like a very close-knit community."