Western Michigan Homer Stryker M.D. School of Medicine honors individuals, families, and companies who show their support through their fundraising and volunteer efforts.
2018 Honorees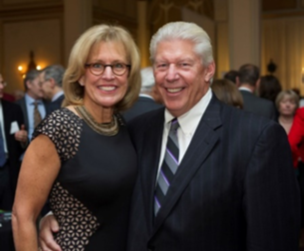 Ronda Stryker and William Johnston
In May, the inaugural class of Western Michigan University's Homer Stryker, M.D., School of Medicine will graduate. This proud achievement, a long time in the making, was led by numerous civic leaders and visionaries, including Ronda Stryker (after whose grandfather the medical school was named) and Bill Johnston. From the earliest conversations about the merit of the medical school (WMed) to the present day's graduating class, they have remained actively involved, stepping up at key times to keep WMed's growth and development on track. For the most part, they have done so quietly beyond the spotlight. WMed has been joined by many friends and supporters who feel the time has come to acknowledge Ronda's and Bill's efforts.
To participate in honoring Ronda and Bill or for more information, please contact Doug Czajkowski, the project coordinator, at (248) 535-1433 or at doug.czajkowski@med.wmich.edu.
Past Honorees
2017 - John M. and Linda Dunn