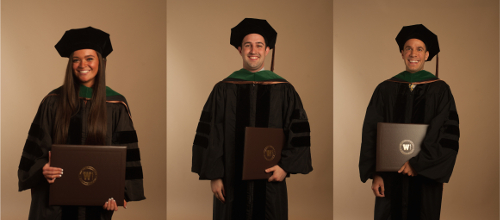 When he came to WMed as part of the medical school's inaugural class, Nick Beam did so with a sense of responsibility to ensure the new institution was successful and to represent his alma mater – Kalamazoo College – with distinction.
"It was a way of saying we're going to set the standard," Beam said.
On May 13, Beam graduated from WMed during a commencement ceremony at Western Michigan University's Miller Auditorium. Beam, a Paw Paw, Michigan, native and Lawrence High School graduate, was joined by 47 classmates, including three WMU alumni – Nicole Baker, Alan Hifko and Andrew Selles.
The trio and Beam are connected by their decision to be a part of the medical school's inaugural class, to take on a pioneering role in helping shape WMed and its curriculum. They also each, at some point, spent time in Kalamazoo as they completed their undergraduate studies at K and WMU.
Baker, a Greenville, Michigan, native earned bachelor's degrees in Biomedical Sciences and French at WMU while Hifko earned a bachelor's degree in biochemistry.
Baker, who wanted to be a doctor from a young age, said she appreciated the sense of community and small-town feel of Kalamazoo during her time at WMU. In deciding to come to WMed, Baker said she was excited to remain in the city for medical school while also getting the opportunity to have a hand in shaping WMed.
"I felt a sense of excitement from the community physicians and our teachers," said Baker, who is headed to Detroit where she will complete her residency training in Obstetrics and Gynecology at St. John Hospital and Medical Center. "They believed in what the school was going to do and were excited to teach and shape great doctors. They promised they would be receptive to our feedback and we would get to shape what happened and I feel like that happened here."
Hifko, a Macomb County native, served in the U.S. Air Force before coming to WMU in 2009. After graduating in 2012, he moved to Virginia where he earned a master's degree in Biomedical Sciences. 
Later, he applied to several medical schools before deciding to return to Kalamazoo where he could be closer to family and be a part of the first MD class at WMed. 
"I really enjoyed Kalamazoo and having the opportunity to come to a new school and be a part of the first class was appealing to me," said Hifko, who is headed to St. Louis, where he will complete his residency training in General Surgery at St. Louis University School of Medicine. "It was just the idea that you get a smaller class size, you get more direct, hand-on learning.
"I was looking forward to being able to help shape the curriculum," Hifko added. "They were looking for a lot of input and when I came for my interview I felt like it was personal and it was one of the schools that read my personal statement and knew a lot about me."
When he reflected on his decision to come to WMed, Beam said the medical school's small size appealed to him because it was similar to K where he graduated with a class of just 299 students. 
"I realized that WMed really was a place with a lot of hands-on opportunities in a place I love to be in – Kalamazoo," Beam said.
Now, with graduation behind him and his MD degree in hand, Beam is headed to Wisconsin where he will complete his residency training in Pediatrics at University of Wisconsin Hospital and Clinics.
"WMed has 100 percent been the right place for me," Beam said. "I had a ton of opportunities to be involve din the school and make fantastic friends and make connections with really amazing people. I think it's a pretty amazing place with really amazing people working toward a common goal."