Simulation Center Spotlight
New WMed Simulation Center at Borgess Medical Center unveiled during open house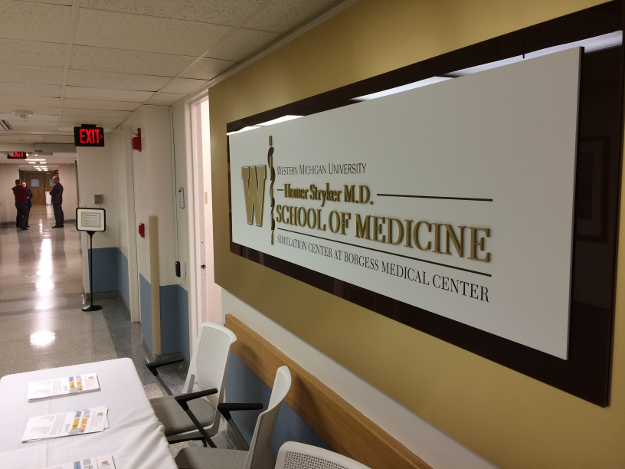 Three years ago, the Western Michigan University Homer Stryker M.D. School of Medicine Simulation Center at Borgess Medical Center was just an idea.
On Tuesday, it became reality as the 4,100 square-foot facility was unveiled to the medical community, and WMed faculty and staff during an open house at Borgess Medical Center.
"There is some pride in it," Dr. Richard Lammers, WMed's Assistant Dean for Simulation and Department Director of Research, said of the new simulation center, which is housed on the fifth floor of the hospital.
"I have high expectations. It is kind of a blank slate."
During Tuesday's open house, visitors toured the new simulation center and got an opportunity to learn about its features from WMed's Simulation Center staff.
"I think it's great," said Kathy Hall, RN, a study coordinator who has worked at Borgess for the past 38 years. "It certainly turned an old place new. If you have a good training place, you can learn much easier."
The Simulation Center at Borgess features classrooms, office space and a procedure room, as well as advanced equipment and high-fidelity mannequins. The facility offers state-of-the-art, hands-on learning in primary and specialty care and learners will have the opportunity to participate in patient care simulations, practice decision-making, procedural and communication skills in a simulated hospital room and a procedural lab environment.
The simulation center will be available to medical students, resident physicians, pre-hospital care providers, and physicians and healthcare practitioners with instruction provided by educators from the medical school and Borgess Health.
"It's great to see that this idea that stared with the planning of the medical school downtown has come to fruition," Dr. Hal B. Jenson, the medical school's founding dean, said Tuesday. "We look forward to being able to use this in a way that complements the simulation center" at the W.E. Upjohn M.D. Campus.
The simulation center at the W.E. Upjohn M.D. Campus is a 25,000 square-foot facility that is the largest regional academic simulation center in Southwest Michigan.
"It's wonderful," Kathleen Adams, a registered nurse who works in clinical documentation at Borgess, said Tuesday as she toured the new simulation center. Adams, who has worked as a nurse for 40 years, including the last 11 at Borgess, said she believes the new simulation center will be a benefit to medical professionals and the community by providing a training ground that will increase medical skills for practitioners and safety for patients.
Dr. Jenson said the new simulation center at Borgess is part of WMed's plans to have interdisciplinary education for students and other medical providers to improve and provide quality care for patients.
Dr. Lammers said attendees at Tuesday's open house, which included nurses, physicians, hospital administrators, nurse educators and members of specialty units at Borgess, used "a lot of superlatives" as they toured the new simulation center and that there was "a lot of excitement."
"They were coming up with some innovative ideas and were inspired by what they could do in this area," Dr. Lammers said. "(The simulation center) is for all healthcare providers at all levels."
Dr. Lammers said the new simulation center will serve as a place to bring nurse-physician teams from Borgess together where they can train and build teamwork skills easily. He said the facility may also serve as a "proving ground" for training on equipment at Borgess that currently is not used regularly.
"Simulation is just the way of the future for education," Dr. Lammers said, adding that the hands-on training provides valuable experience in a safe and controlled environment.
"It just fits the new emerging paradigm for medical education," he said.