Because of the dedication and tireless effort of our students, faculty, residents, fellows, staff, and donors — along with sustained community support — we are making continuous progress on our journey to excellence in medical education.
Together, our donors are helping us fulfill our mission to educate and inspire lifelong learners to be exceptional clinicians, leaders, educators, advocates, and researchers of tomorrow. 
Thank you to those who have helped us on our journey to create the future of medical education in southwestern Michigan. 
2021 Donor Spotlights  
Throughout the year we recognize esteemed benefactors who have generously supported our school in various ways.
William U. Parfet and Barbara A. Parfet | William D. Johnston and Ronda E. Stryker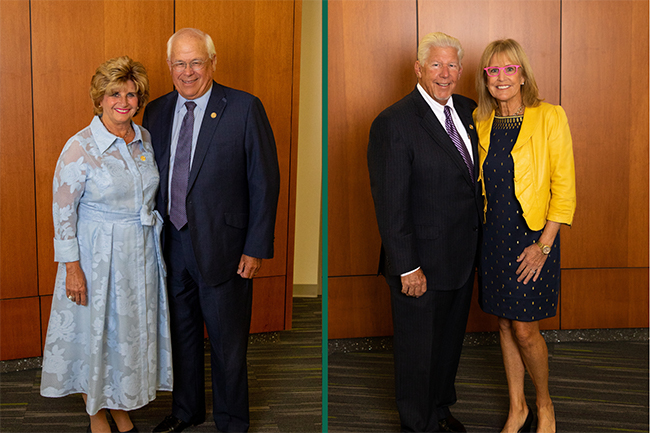 We formally recognize Mr. William D. Johnston and Mrs. Ronda E. Stryker alongside Mr. William U. Parfet and Mrs. Barbara A. Parfet for their leadership in co-chairing the medical school's tenth anniversary gala WMed Live: A First Decade Celebration. Their leadership played an instrumental role in honoring Dean Emeritus Hal B. Jenson for his decade of leadership as the founding dean of Kalamazoo's premier medical school and in welcoming our new dean, Dr. Paula Termuhlen.
We appreciate their ongoing enthusiasm to celebrate the achievements of the medical school and our future Clinicians, Leaders, Educators, Advocates, and Researchers of tomorrow. Bill and Ronda have been tireless in their advocacy to encourage members of our regional community to support medical education diversity, equity, and inclusion initiatives. Bill and Barbara have shown generous support for the mission of the medical school, the development of the medical school's physical facilities, and encouraging philanthropy through the WMed Philanthropy Advisory Council, the Dean's Circle Leadership Giving Society, and the planned giving programs of the medical school.
We proudly recognize these two couples for their bold leadership, inspiring vision, and generous financial support to advance the mission of WMed and its place in the field of global medical education.
2019-2020 Philanthropy Impact Report
Every gift counts - no matter the size - and your gifts to WMed provide the medical school with a consistent source of funding for key priorities and student equational opportunities that otherwise would not be possible. Please take some time to read about some of the wonderful partnerships we have made to support WMed, and inspiring stories of giving.