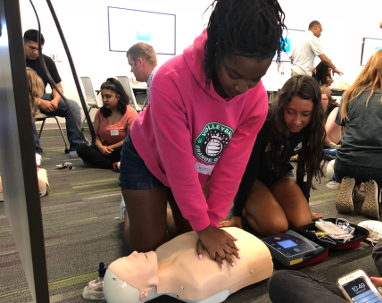 The Early Introduction to Health Careers 2 pipeline program (EIH 2) at Western Michigan University Homer Stryker M.D. School of Medicine (WMed) is a multi-pronged initiative to empower underrepresented 10th grade students in Kalamazoo Public Schools (KPS) and fuel their dreams of future careers in the biomedical science and health care fields. Preference is given to underrepresented-in-medicine minorities, as well as students who are low income and/or first-generation college attendees. 
The program is designed to provide health career exposure while teaching science through a health care lens. Students engage in hands-on, team based learning lessons, activities, simulations, mentoring and research facilitated by WMed students and faculty. The program hopes to also enhance students' self-efficacy for future success in high school and higher education attainment by improving problem-solving and critical-thinking skills. 
The EIH 2 pipeline program:
Improves education for youth through educational enrichment and exposure to health careers.
Decreases current STEM educational gaps for underrepresented students in the community.
Over time, improves health disparities through education and leadership development that impacts the social determinants of health by affecting change.
Is vital to the growth of well-trained, diverse health professionals who can serve the increasing health care needs of the population.
EIH 2 was launched in 2014 and since that time more than 100 10th grade students from Kalamazoo Central, Loy Norrix and Phoenix high schools have participated in the program. EIH 2 is comprised of monthly Saturday Science academies led by WMed faculty and students that are held from October to May. The academy sessions focus intensely on health sciences, math, and the development of critical-thinking, teamwork and problem-solving skills.
The curriculum for the weekend science academies includes: 
Presentations from health care professionals
The study of body systems through Team Based Learning, including a session on food literacy at the Kalamazoo Valley Community College Culinary Institute
Application of clinical skills in our state-of-the-art Simulation Center
Individual mentoring sessions 
Development of research and presentation skills
At the conclusion of the program, 24 students are chosen to participate in an intensive two-week summer camp that is conducted in partnership with Kalamazoo College. Students accepted into the summer program spend the first week conducting biochemistry research with Kalamazoo College faculty, and explore anatomy and physiology with WMed faculty and staff during the second week.  A recent partnership with Stryker has provided summer camp students with the exciting opportunity to learn about additional STEM careers by taking part in hands-on activities led by Stryker engineers.
EIH 2 is made possible through partnerships with Kalamazoo College, Kalamazoo Valley Community College and Western Michigan University, and is supported by grants from the United Way of the Battle Creek and Kalamazoo Region, and the Harold and Grace Upjohn, Dorothy U. Dalton and Irving S. Gilmore foundations.
The EIH program was created by Cheryl Dickson, MD, MPH, Associate Professor of Pediatrics and the medical school's Associate Dean for Health Equity and Community Affairs.
Eligibility
The EIH 2 pipeline program is open to 10th grade students in the KPS district. Preference is given to underrepresented-in-medicine minorities, as well as students who are low income and/or first-generation college attendees.