2018-2019 Program Overview
Congratulations on your acceptance into the Early Introduction to Health Careers II (EIH 2) pipeline program at the Western Michigan University Homer Stryker, M.D. School of Medicine (WMed).  Working closely with first and second year medical students, faculty and health care professionals in a supportive, team based environment, this program will bolster your science skills while introducing you to a wide variety of health care careers.  Focus will also be given to developing leadership, public speaking and interpersonal skills.   
Please visit this web page frequently as we will post updates, student assignments and other information you will need to prepare for each session.
Saturday Session Schedule
Attendance at each session is mandatory.  If you anticipate an absence due to illness or family emergency, please email dawn.deluca@med.wmich.edu as soon as possible.
Date/Time
Topic/System
Location
Saturday, January 12, 2019
Time: 8:45 a.m.-1:00 p.m.
Infectious Diseases/STD
WMed W.E. Upjohn M.D. Campus, 300 Portage St, Kalamazoo
Saturday, February 23, 2019
Time: 8:45 a.m.-1:00 p.m.
Diabetes
KVCC Culinary/Allied Health Building, 418 E. Walnut St, Kalamazoo
Saturday, March 2, 2019
Time: 8:45 a.m.-Noon
Musculoskeletal
WMed W.E. Upjohn M.D. Campus, 300 Portage St., Kalamazoo
Saturday, April 13, 2019
Time: 8:45 a.m.-1:00 p.m.
Parents Invited: 11:00 a.m.-1:00 p.m.
Pathology/CSI
WMed W.E. Upjohn M.D. Campus, 300 Portage St., Kalamazoo
Saturday, June 8, 2019
TIme: 8:45 a.m.-1:00 p.m.
Gastroenterology
KVCC Food Innovation Center, 224 E. Crosstown Pkwy., Kalamazoo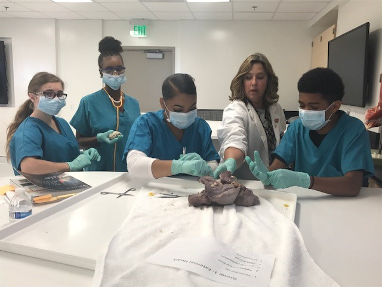 Summer Camp
The EIH 2 summer camp is a two-week program done in partnership with Kalamazoo College. Any student who was enrolled in the Saturday Academy program is encouraged to apply for one of the 24 summer camp spots. Students must be committed to attending both full weeks.
Applications are due no later than April 15, 2019.
2019 Summer Camp Dates
Week 1: June 17-21 
Location: Kalamazoo College, Dow Science Building
Time: 9:00am-2:00pm
Overview 
Students will conduct biochemistry research under the direction of Dr. Regina Truss, Professor of Chemistry at Kalamazoo College.  
Objectives
Learn  the importance of laboratory safety
Learn to think about how experiments can be affected by changes in experimental conditions
Learn how to use different experimental approaches/techniques
Learn how to interpret data
Learn how to develop and test a hypothesis
Learn how to use graphs, tables, and other visual displays effectively
Learn how to discuss results of an experiment
Demonstrate synthesis of understanding by presenting research results to peers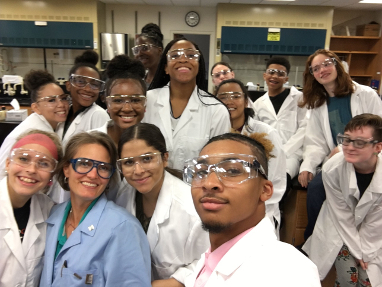 Week 2: June 24-28
Location: WMed, W.E. Upjohn M.D. Campus 
Time: 9:00am-1:00pm
Overview 
Students will engage in interactive anatomy lessons led by WMed faculty and staff and have the opportunity to learn CPR and test to obtain certification.  Part of this week will also be spent with Stryker engineers to explore how engineering and medicine integrate to improve patient outcomes.
Objectives
Develop a more in-depth understanding of cardiac and pulmonary systems by exploring and labeling specimens.  
Learn CPR for adults and children
Solve problems by using engineering skills and creative thinking