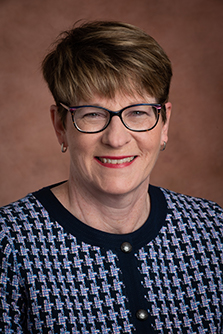 I write to extend an invitation to all of the stakeholder groups of WMU Homer Stryker M.D. School of Medicine to join with me and the members of the medical school to support activities that empower the future of medical education at WMed.
Listed below are four mission critical initiatives that we have identified at WMed that will play a critical role as we begin the second decade of WMed's leadership in medical education. These mission critical initiatives include: supporting student success; supporting diversity, equity, and inclusion in medical education; expanding access and opportunity through scholarships; and fostering innovation, collaboration, and discovery.
I invite you to join us to make WMed a national leader for empowering futures in medical education.
Sincerely,
Paula M. Termuhlen, MD
The Hal B. Jenson MD Dean
Join Us in Empowering Futures in Medical Education
To start a conversation, or to learn more about any of WMed's mission critical initiatives for Empowering Futures in Medical Education, please contact a member of the WMed Philanthropy Team to start a no-obligation conversation. Contact us by email at giving@med.wmich.edu, by phone at 269.337.6575, or make a gift online through the secure button below.