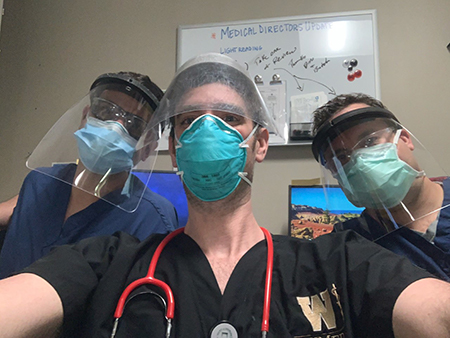 With the goal of protecting the medical school community and our patients in light of the resurgence of COVID-19 infections, WMed is reinstating The WMed COVID-19 Response Fund. This fund was launched in 2020 as a tangible way for staff, alumni, and friends of WMed to assist the medical school in keeping the students, residents, faculty, staff, clinic patients, and local community members safe from the coronavirus.
As we continue to monitor the changing pandemic and the impact of the Delta variant, we invite you to play a part in helping WMed fight the pandemic in areas of our community with substantial transmission rates. Your financial support can extend our reach and make a real impact in our community. By making a gift to The WMed COVID-19 Response Fund you can help provide the following:
Personal protective equipment for our front-line students, residents, and employees;
Testing for our patients and the community;
Telehealth services when it is not feasible to see one of our providers in person;
Education and training for medical students, faculty, and staff on transmission prevention;
Wellness programs to meet the mental health needs of our community, staff, and their families.
Personal protective equipment includes the following:
Hand Sanitizer 
N-95 Masks
Face Shields and Visors
Latex Gloves

Isolation Gowns, Scrubs, and Shoe Covers
Cleaning Supplies
Hand Sanitizer Stations
Sanitizing Equipment and Supplies for Classrooms, Clinical Facilities, Labs, and Study Areas
Help Us Protect Our Community
In sickness and in health, WMed is committed to its mission of educating future generations of physicians, medical researchers, and educators. The impact of COVID-19 has underscored just how important the role that physicians and medical researchers have in maintaining public health. We invite you to continue to support this mission by making a gift to The WMed COVID-19 Response Fund today.

WMed is a 501(c)(3) non-profit organization. All donations are tax deductible to the full extent of the law.