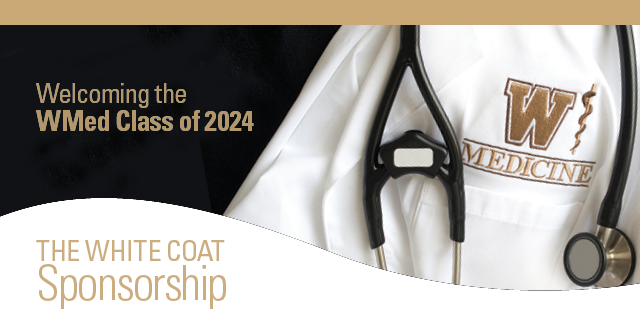 The cloaking of a student with the white coat - the mantle of the medical profession - is a hands-on experience that underscores the start of the journey to become a physician. It is personally placed on each student's shoulders by individuals who believe in the student's ability to carry on the noble tradition of doctoring.
This year's White Coat Ceremony for the Class of 2024 took place on September 26. Thank you again to our sponsors and to the Office of Student Affairs and the Office of Communications for their work setting up the event. Also, many thanks to all of our speakers at the event and good luck to the Class of 2024 during their first year at WMed!
 

Thank you to all of the sponsors for the Class of 2024 White Coat Ceremony! See below for our full list of sponsors.
Sponsorships have closed for this year, but we would welcome consideration for you to become a sponsor of the Class of 2025 next year. Your sponsorship helps provide the incoming student not only with their first WMed Branded White Coat, but also key medical equipment, WMed Scrubs, and important PPE equipment. See below for information on sponsorship levels, as well as how to give to be a 2021 White Coat Sponsor.
Sponsorship Levels
White Coat Classic Sponsor:    $500
White Coat Bronze Sponsor:    $1,500
White Coat Silver Sponsor:      $2,500
White Coat Gold Sponsor:        $5,000
White Coat Platinum Sponsor: $10,000
Leadership level sponsorships, bronze through platinum, will be recognized as member's of the Dean's Circle Leadership Giving Society for the 2020-2021 academic year.
Donations at the leadership levels of bronze through platinum will support medical student success throughout the academic year. Leadership level gifts will provide a wide range of enhanced educational opportunities for all WMed medical students.
To give: Please send your check payable to: WMU Homer Stryker M.D. School of Medicine and mail it to: WMU Homer Stryker School of Medicine, Office of Development and Alumni Affairs, 1000 Oakland Drive, Kalamazoo, MI 49008. Please write, "2020 White Coat " in the memo section of your check.
For more information on becoming a sponsor for the 2021 White Coat ceremony please feel free to call or e-mail Joel Saukas, Advancement Services Coordinator in the Office of Development and Alumni Affairs, at 269.337.6302 or write by e-mail at joel.saukas@med.wmich.edu.