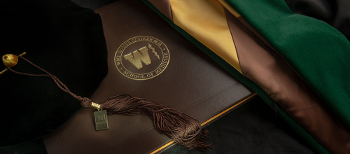 Class of 2020 Virtual Commencement
In light of the COVID-19 pandemic, students from the MD Class of 2020 and graduates of the medical school's Master of Science in Biomedical Sciences and Master of Science in Medical Engineering degree programs were honored during a virtual commencement ceremony on Saturday, May 16, 2020.
The event was shown on the medical school's Facebook page. The decision to avoid coming together in a large group for commencement was focused solely on prioritizing the health and safety of the WMed community and the wider community of healthcare professionals.
The Office of Student Affairs collaborated with many others at WMed to put together a virtual celebration that celebrated and recognized students' achievements and the support of their loved ones throughout the academic journey.
Our 2020 graduates are welcome to return in May 2021 to participate in next year's graduation ceremony, where all students from 2020 will have special recognition.
Past Commencements