The Hal B. Jenson MD Master of Science in Biomedical Sciences degree program is designed specifically for applicants to our medical school who have strength in their pre-medical experiences and attributes, and would benefit from additional basic science preparation before beginning medical school. The master's program coursework is designed to strengthen understanding in basic science material, providing a stronger foundation as the student enters medical school. A distinct benefit of enrolling in the master's degree program is the linkage to the medical program. When accepted to the Master of Science in Biomedical Sciences program, students are conditionally accepted to the MD program for the following year. The curriculum runs alongside MD students, and instruction is provided by medical school faculty. This program supports WMed's mission to build a diverse and inclusive environment that will serve the medical needs of our community.
Application Process
A select group of students who have applied for admission to the MD program will be invited to participate in this nine-month master's degree program. Students accepted into the program are required to meet the same requirements as the MD students including submitting an AMCAS application, MCAT score within the last three years, a minimum 3.0 GPA, and completion of a bachelor's degree prior to beginning at WMed. There is no direct application to this program. Candidates are referred by the Medical Student Admissions Committee to the Master's Program Selection Committee, who makes the final student selections in late May or June.
Curriculum
The MS program in Biomedical Sciences builds on the student's undergraduate foundation in the basic sciences with select medical school courses. Academic support and study skills help promote academic success and refine successful learning strategies. The goal of the degree program is to prepare students for success in medical school. Students will be expected to achieve or surpass a threshold level of competency in foundational biomedical sciences and professionalism required to gain admission to medical school. 
To earn the MS in Biomedical Sciences, students must:
Display knowledge of established and evolving biomedical sciences;
Apply established and emerging biophysical scientific principles fundamental to healthcare;
Communicate effectively both verbally and in writing.
2021-2022 Master of Science in Biomedical Sciences Curriculum Calendar


Click Image to Enlarge
Courses
Program Co-Directors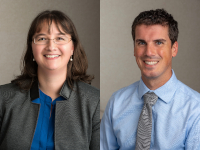 Laura Bauler, PhD, and Peter Vollbrecht, PhD, serve as co-directors of the MS Program in Biomedical Sciences. Please contact Drs. Bauler or Vollbrecht if you wish to learn more about this unique master's degree program. You can learn more about Drs. Bauler and Vollbrecht, including their contact information, on their WMed faculty webpages at the following links:
Program Named in Honor of Hal B. Jenson, MD
At the time of his retirement as Founding Dean in May 2021, this degree program was named in honor of Hal B. Jenson, MD because of his leadership, advocacy, and dedication to the development of this Master of Science in Biomedical Sciences degree program.
Consumer Information and Campus Safety
As an educational institution, WMed is required to provide consumer information to prospective students. Our Annual Campus Safety and Security Report includes statistics on reported crimes as well as policies and procedures that are designed to promote a safe, secure learning and working environment. For information or to receive a printed copy contact Facilities at facilities@med.wmich.edu or 269.337.4225.