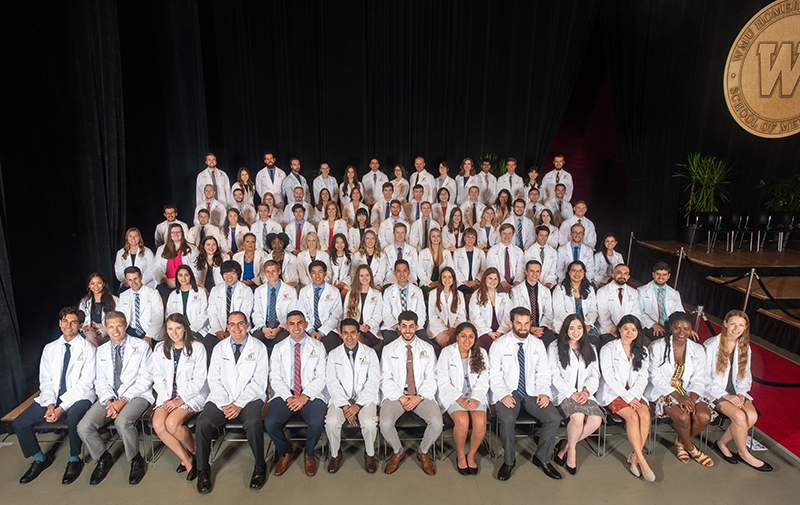 As the medical school's newest aspiring physicians, Dr. Cheryl Dickson told students in the Class of 2023 that they are at the beginning of a journey that allows them "the privilege and opportunity to be a rainbow in someone's else's cloud every day."
"I know how special it is to be chosen to have one of those seats," said Dr. Dickson, the medical school's associate dean for Health Equity and Community Affairs. "I want you to remember how special you are to us, to be sitting here now. You were chosen from thousands of applicants to be selected to come to WMed – chosen because we believed in you and felt you were right for our school and our community, which is now also yours."
Dr. Dickson's delivered her remarks on Saturday, September 21, 2019, as the keynote speaker for the Class of 2023 White Coat Ceremony at Western Michigan University's Miller Auditorium. During the ceremony, each of the 84 students was presented with their white coat as WMed faculty and staff and students' family and friends cheered and applauded.
Dr. Hal B. Jenson, the medical school's founding dean, told the students that wearing their white coat brings with it great expectations, but that it is also an honor and a privilege. He said the cloaking of each student in their first white coat by their learning community scholar advisor "represents all of the faculty who welcome and have confidence in you and your commitment to become a dedicated professional."
"Stay true to your oath and become a credit to the medical profession," Dr. Jenson said.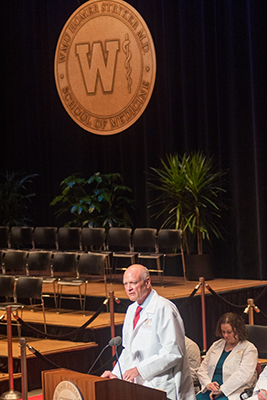 A doctor's white coat has long been the widely recognized symbol of the medical profession. However, it wasn't until 1993 that the White Coat Ceremony was founded by the Arnold P. Gold Foundation, which concluded that the beginning of a student's journey into medicine is the best time to influence the standards of professionalism, humanistic values and behavior.
The white coat for each student at the White Coat Ceremony on September 21 was made possible by contributions from white coat sponsors. Each student received a handwritten note from their sponsor that was placed in the pocket of their white coat for them to read.
Prior to the students in the Class of 2023 receiving their white coats, Melissa Pellman, a second-year student and member of the WMed Student Council, told the crowd at Miller Auditorium that she was excited to welcome the newest students to the "WMed family."
"Your WMed family has your back," Pellman said. "… Reach out if you need it, but know that you deserve to be here, you know so much even when it doesn't feel like it, and you are exactly where you need to be as a doctor-in-training. You are never alone."
Pellman encouraged the students to embrace their roles as learners during their time at the medical school, to learn and grow from their mistakes and understand that their next four years will be filled with ups and downs.
"Push each other constantly and support each other fiercely," Pellman said. "You will be amazed at the development you see in yourself and your classmates as you all are shaped into doctors.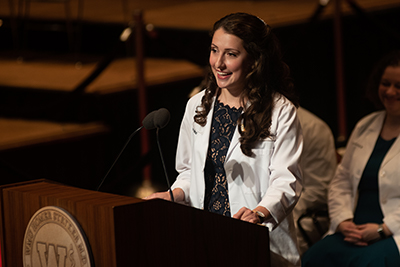 "When it gets tough, think back on today," Pellman added. "Feel your lived experiences as the fuel inside of you, stoked by the support and love from the friends and family you have needed to keep going. Your passion will continue to burn even when you will have to face seemingly insurmountable challenges. You will overcome."
In her remarks, Dr. Dickson said she wanted to leave the Class of 2023 with five words to remember – trust, honesty, compassion, empathy and advocacy. Each word, she said, will be keenly important as the students strive to provide compassionate care while putting the needs of their patients' first.
"It is your words, your honesty, your compassion, and your empathy that mean so much during the times when they are the most vulnerable," Dr. Dickson said. "It is important for you to understand going forward as we are all charged with doing our best. We are human, mistakes can and will happen, but we need to be honest, we need to be committed to make the systems and what we do better."