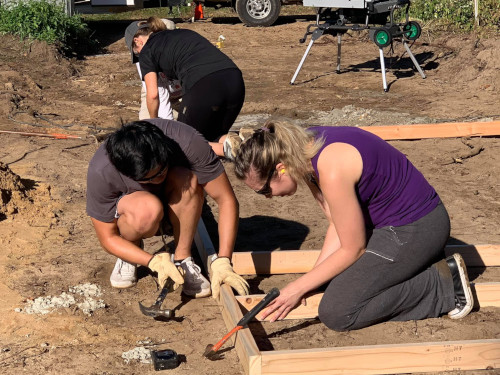 Whether it was preparing meals for residents of the Kalamazoo Gospel Mission, pulling weeds at the Gilmore Healing Center or helping build a house with Habitat for Humanity in Plainwell, students in the medical school's Class of 2023 spent a day in September volunteering and improving their community.
Students in the Class of 2023 spent the day at nine sites in Southwest Michigan Wednesday, September 18, as part of their Day of Service. The other sites where students volunteered for Day of Service were the Cheff Therapeutic Riding Center, the Family Health Center, the YWCA of Kalamazoo, Heritage Community of Kalamazoo, Urban Alliance, Ministry with Community and Health and Community Services Area Agency on Aging.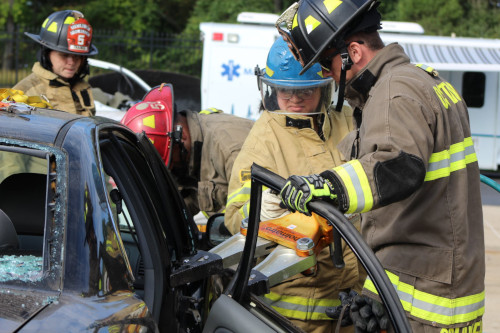 The Day of Service focuses on the building of partnerships with community organizations and the development of teamwork skills and leadership. Students gain first-hand and up-close experience with the needs of the Kalamazoo community and the projects reflect the medical school's commitment to community service.
Students said it felt good to give back and to do so on a project that interested them.
"What we really need to understand as future healthcare providers is that what you do right now – pulling weeds – is just as valuable as spending that extra hour in the classroom," Mounika Pogula said. 
A day after Day of Service, on Thursday, September 19, the students took part in the capstone event for Medical First Responder training. The all-day event was held at the Kalamazoo Regional Fire Training Center and consisted of several emergency scenarios, including a mass-casualty incident, a water rescue, a car extrication, and rappelling down a building. The students also got an up-close look and a question-and-answer session with a flight crew with West Michigan Air Care.
First-year WMed students spend seven weeks on medical first responder training, which culminates with the MFR capstone event. The training qualifies students for state and national certification as medical first responders.
MFR training begins for first-year students during their first week at WMed as part of the medical school's curriculum. The course equips students to respond when someone is ill or injured and provides them with instruction on basic procedures, including taking vital signs, CPR, bandaging and wound care and splinting, among other things.