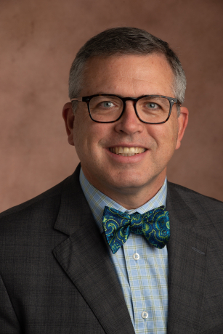 Welcome from the Department Chair
On behalf of the faculty, residents, and staff I would like to welcome you to the Department of Orthopaedic Surgery. We are dedicated to creating a culture of excellence in all domains of academic medicine. Our motto of "Legacy of Excellence" embraces our core values in patient care, teaching, research, teamwork, leadership, and tradition. The centerpiece of our department's vision is the development of the medical student and the orthopaedic resident.   We celebrate over 30 faculty, mostly subspeciality fellowship trained, in our department and have close relationships with our two nearby community hospitals. This has allowed us to provide complete care for both the inpatient and outpatient setting and for both the adult and pediatric populations. Many orthopaedic surgery faculty continue to be actively involved in both clinical and basic science research and have partnered with WMed's and the WMU engineering school's research programs. Furthermore, we have faculty members that remain in leadership positions within our national societies, thus bringing innovation in orthopaedic education, assisting to improve our healthcare system and making advances in orthopaedic surgery by developing state-of-the-art procedures.   
At the Oakland Drive Campus, our full-time orthopaedic surgeons provide care for  the spine, the pediatric patient to include extremity and spine deformities, shoulder and elbow, sports medicine, and all fracture care to include complex trauma. We have developed Interdisciplinary clinics for the complex pediatric patient. Our outpatient staff include on-site radiology services with radiology technicians, orthopaedic cast and splint technicians, and musculoskeletal ultrasonography used for both diagnostic and therapeutic needs. 
We are proud of the members within our department and continue to strive for excellence in all arenas by maintaining our core values and developing into a nationally recognized academic department.