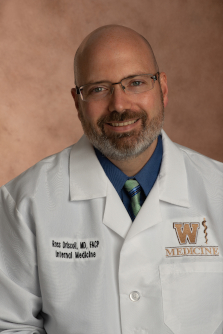 The best medical education is provided within the context and setting of outstanding clinical care. In the Department of Medicine, we emphasize comprehensive care for adults of all ages and from a wide diversity of backgrounds. We respect and honor all of our patients as, together, we manage patients with active and complex illnesses.
We also emphasize superb preventative healthcare for all of our patients, whatever the reason for their visit that day. Our team of experienced faculty teach future Internal Medicine specialists in a nurturing and positive manner. We also embrace an active role in the medical school's research programs, including quality improvement initiatives.
At WMed's Oakland Drive Campus, we see approximately 8,000 patient visits per year with patients from a wide range of socioeconomic backgrounds. Together, we focus on a team approach to medicine with the support of skilled nurses, a full-time dietician, full-time social workers and on-site behavioral psychologists.
Together, we provide outpatient services in general internal medicine, medicine-pediatrics, infectious diseases and rheumatology. Our Internal Medicine Clinic is proud to be nationally recognized as a Patient-Centered Medical Home. Our model of care emphasizes care coordination and communication to best meet the needs of our patients and their families.
We invite you to come and explore the opportunities for patient care and medical education in Kalamazoo. Come learn with us, practice and learn with joy, and be a part of our family.