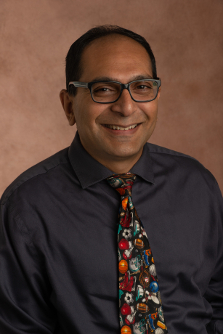 The mission of WMed's Division of Developmental-Behavioral Pediatrics is to provide clinical care, including diagnosis and management of children and adolescents with developmental and behavioral challenges, and to provide guidance to families who work tirelessly with these children. Our vision is to leverage interdisciplinary collaboration within WMed and the community to deliver quality care.
Additionally, we strive to train the next generation of practitioners in the art and science of developmental-behavioral pediatrics and engage in practice improvement and research to increase the general fund of knowledge about these conditions.
Neelkamal Soares, MD, leads the Division of Developmental-Behavioral Pediatrics and is a fellowship-trained, board-certified developmental-behavioral pediatrician. He completed his pediatrics residency at the University of Illinois at Chicago and a Maternal Child Health Bureau-funded fellowship in Developmental-Behavioral Pediatrics at the University of Maryland Baltimore. He has held faculty appointments at several academic health centers and has practiced in clinical settings, including federally qualified healthcare centers and integrated health systems over the last 15 years. He has held leadership positions in national professional organizations and has delivered scientific and invited presentations nationally and internationally.
Dr. Soares collaborates closely with other members of the care team at WMed, including Pediatric Psychology and Social Work. He also participates in interdisciplinary care with Orthopedics, Plastic Surgery, Physical therapy, Occupational therapy, Speech-language therapy, Nutrition and Orthotics in caring for children with multiple complex medical conditions.
Services
The Department of Pediatrics and Adolescent Medicine and the Division of Developmental-Behavioral Pediatrics provide an array of specialized services to the community at our Pediatrics and Adolescent Medicine practice and our Developmental-Behavioral Pediatrics practice located on the second floor of WMed's Oakland Drive Campus.
Division Team Members