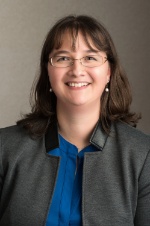 Laura Delbridge Bauler, PhD
Associate Professor, Department of Biomedical Sciences
Associate Professor, Department of Medical Education
---
Biosketch
Laura Bauler, PhD, is an Assistant Professor in the Department of Biomedical Sciences at Western Michigan University Homer Stryker M.D. School of Medicine.  She is a graduate of the University of New Hampshire in Durham, New Hampshire. She earned her PhD in microbiology and immunology from University of Michigan in Ann Arbor, Michigan. Her graduate work focused on characterizing the innate immune response to Listeria monocytogenes.
Prior to coming to WMed, Dr. Bauler was a post-doctoral fellow with the NIH at Rocky Mountain Laboratories in Hamilton, Montana. She studied the mechanisms of pathogenesis used by the obligate intracellular pathogen Chlamydia trachomatis using a molecular genetic approach. One of her current research projects explores the impact of Chlamydia infection on birthoutcomes for infants and mothers in Kalamazoo County.
Since coming to WMed, Dr. Bauler has served as a medical editor and scientific writer before transitioning into a full time teaching role. She currently directs the Masters in Biomedical sciences program Capstone course, teaches an elective for medical students on case report writing, teaches various workshops on writing and publishg, in addition to serving on several committees including the Research Day Committee. Her educational research interests focus on use of peer-evaluation to support development of professional skills, as well as exploring the impacts of various educational innovations.