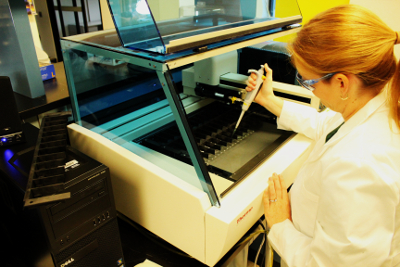 At WMed, we are continuing to grow a breadth of resources for our students, residents, faculty and staff and providing expertise to assist – and foster – streamlined, successful outcomes.
Within the medical school's Center for Clinical Research, for example, Dr. Krishna Jain, a retired and renowned vascular surgeon, is working as a clinical investigator and keenly focused on helping students, residents, faculty and staff find projects and scholarly activity that will grow their research knowledge and portfolios.
Dr. Jain serves as a mentor for students, residents, faculty and staff in clinical studies and scholarly activity, and he is working to foster broader participation in clinical studies, as well as growth in oral and poster presentations, and publications, at WMed. Dr. Jain can be contacted at krishna.jain@med.wmich.edu.
The medical school's work to build its research footprint has also been boosted by the evolution of WMed's Center for Immunobiology and the Center for Neuropathology, as well as the acquisition in 2016 of the WMed Innovation Center. 
Work within the Center for Immunobiology is being led by nationally renowned researcher and physician, Dr. Tom Rothstein, and is designed to achieve cutting-edge discovery of immune cell activity, behavior and function. The Center for Neuropathology, meanwhile, is a national referral center for the diagnostic interpretation of autopsy brains and biopsy specimens, as well as a research center dedicated to scientific investigation of causes and consequences of diseases of the human nervous system.
Additionally, the medical school's Sponsored Program Administration (SPA) is available as a liaison with external agencies that provide funding for projects at WMed. SPA supports the entire life cycle of funding.
WMed Pilot Research Project Support Program
The WMed Office of Research is soliciting applications for a second round of program support for pilot research projects. Funding will be reserved for projects that are in their initial or early stages of development, are not currently funded, and that engage WMed medical students or residents in the research activities. Applications will be due Monday, September 24, 2018. Applicants will be notified of funding decisions by Monday, October 15, 2018. Funds will be available pending notification of appropriate review by the IRB (human subject protection), IACUC (animal welfare protection), and/or IBC (biosafety committee) as needed to carry out the proposed research. A additional round of proposal submissions may be announced in early 2019 depending upon availability of funds. 
Note: Projects that received funding in the first round of the pilot research program are not eligible for additional funding at this time.  
Application Criteria

Funds must be used for new initiatives that are not currently funded.
Projects must engage medical students or residents in the proposed research activities.
Funds may be used for supplies, support services, support staff salaries, equipment, fees, data analysis, data collection, and other direct costs associated with the proposed research activities.
Funds may not be used for faculty, resident, or student salary support or travel.
Proposed budgets may not exceed $10,000, however, it is expected that the average funded project budget will be approximately $5,000.
Proposals will be peer reviewed by WMed faculty appointed to the pilot research review subcommittee, of the Research Committee.
Funding must be utilized within one year of the award date.
A summary of the project results will be required at the end of the funding period describing any plans for publication and efforts to seek extramural funding based upon the utilization of the pilot project funds.
Funds may be used for purposes that foster or facilitate the generation of new research initiatives.
Matching funds may be available for early stage proof of concept proposals with potential for commercialization (contact Sandra Cochrane, assistant dean for the Innovation center for more information).
Proposals will be accepted addressing any relevant area of clinical, basic science, community, or educational research.  

Application Process

Complete the Pilot Research Proposal Form and submit it to the Office of Research by e-mail at office.research@med.wmich.edu prior to the deadline of midnight on September 24, 2018.
Award decisions will be announced by October 15, 2018.
Earliest availability of funds to begin October 22, 2018, pending any required approval(s) by the IRB, IACUC, or IBC.