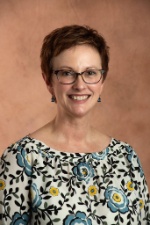 Kristine M Gibson, MD
Assistant Dean for Clinical Applications
Associate Professor, Department of Pediatric and Adolescent Medicine
---
Contact Information
Patient Care Related:
Adolescent Eating Disorders, 269.337.6430
Pediatrics - Mall Drive, 269.327.1900
Pediatrics - Oakland, 269.337.6400
Kristine.Gibson@med.wmich.edu
Biosketch
Kristine Gibson, MD, is the Assistant Dean for Clinical Applications. In this role, Dr. Gibson works in collaboration with the clerkship, discipline, and elective directors and provides oversight of clinical teaching in the MD degree program throughout the four year curriculum. She is the course director for Transition to Clinical Applications and Transition to Advanced Clinical Management and has special interest in Interprofessional Education.
Dr. Gibson is also an Assistant Professor in the Department of Pediatric and Adolescent Medicine and provides care from infancy through adolescence as part of the WMed Pediatrics Clinic. She also cares for children and adolescents with eating disorders at WMed and Bronson Children's Hospital. Prior to joining the medical school in January 2015, she served as a pediatrician with Pediatrics, PC in Portage, Michigan for sixteen years. She is Board Certified with the American Board of Pediatrics. She has a bachelor's degree in Biomedical Sciences and Music (with Distinction) from the University of Michigan in 1991. She earned her medical degree from Indiana University School of Medicine in 1994. She completed her residency in Pediatrics at DeVos Children's Hospital in 1997.
Dr. Gibson currently serves on the board of the Bronson Health Foundation, is past president of the Southwest Michigan Eating Disorders Association, and is an active member of the Council on Medical Student Education in Pediatrics. Her clinical interests include eating disorder treatment and prevention, mental health, and early childhood development.