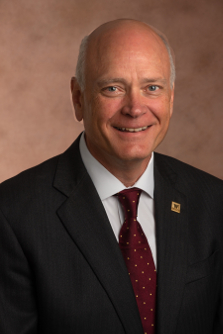 In the time since its founding more than seven years ago, Dr. Hal B. Jenson, the medical school's founding dean, says there are numerous ways to measure the value WMed brings to the Kalamazoo community and Southwest Michigan.
One could easily point to the medical school's role as an economic driver or the continuous collaboration between WMed, Kalamazoo's two teaching hospitals, and Western Michigan University that has led to important developments, among them a strong clinical ethics program, clinical services in urogynecology and geriatrics, and new fellowships in forensic pathology and, most recently, palliative care.
"You can look at our presence downtown or even the services we offer that would not be here without the medical school," Dr. Jenson said.
But, even more importantly Dr. Jenson said, are the tangible – but perhaps less visible – ways the medical school has affected the culture of Kalamazoo's medical community by strengthening the culture of – and focus on – continuous improvement.
"That impact is the result of our commitment to a culture that we are all lifelong learners. We have the expectation that no matter where we are in our trajectory toward excellence, we can be even better," Dr. Jenson said. "That's the premise of an academic institution as a learning institution."
WMed, along with Ascension Borgess and Bronson Healthcare, are among the nation's 154 accredited medical schools and more than 400 major teaching hospitals and health systems in the U.S.
Collectively known as academic medical centers, these institutions work together to educate and train the next generation of physicians, biomedical scientists, and other health professionals. As major centers of research, they discover and pioneer new and more effective medical treatments that set the standard of care throughout medicine. And with leading medical experts, the most advanced technologies, and the latest treatments, these centers of medical excellence also work to develop more effective models of health care delivery that improve the quality of patient care and lower costs.
To help address a looming physician shortage, for example, the nation's medical schools have increased class sizes, and 26 new medical schools, including WMed, have opened in the past decade. 
Altogether, WMed and other institutions have expanded medical student enrollment by 30% to help ease the effects of the doctor shortage. Along with educating more doctors, medical schools and teaching hospitals are training doctors in new ways and enhancing and refining curricula to ensure tomorrow's health care professionals are getting the training they need to improve the overall health of our population. Examples include educating future doctors to address social determinants of health, responding to health care crises such as the opioid epidemic, and providing care for ongoing health care needs such as obesity, smoking, diabetes, and heart disease.
By training in teaching hospitals, new doctors, nurses, and other health professionals also learn in an environment that integrates education, patient care, and medical research, providing benefits not only to the health care workers but also to the patients in their care. For example, a recent study published in JAMA found that patients treated at major teaching hospitals have up to 20% higher odds of survival, compared to those treated at nonteaching hospitals. But training the doctors of the future is only one piece of what's required to care for our aging population and prepare the nation to face emerging health care needs.  
"With our collaborations throughout the community and region, we are working to make healthcare in Southwest Michigan even better," Dr. Jenson said. "That is the way in which a medical school can be transformative. As an educational institution, the impact of our learners will continue beyond this region and beyond our careers. Our learners will carry that forward wherever they go."