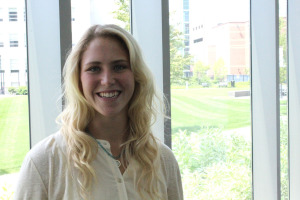 A student in the medical school's Class of 2020 said it was "an honor and a blessing" to be asked to help with an organ donation surgery.
Alexandria Chrumka was nearing the end of her medical intensive care unit rotation at Bronson Methodist Hospital in August and had gotten to know the Gift of Life Michigan throughout her time there.
On the last day of her rotation, a patient had been declared brain dead but was too unstable to transport to Ann Arbor for the organ donation.
"They ended up doing the organ donation at Bronson," Chrumka said. "Anyone who'd been involved in their care can't assist the transplant team with donation of organs because it's a conflict of interest but students are exempt. Because the team knew me and knew I was really interested in surgery, they asked me if I would step in and be first assistant, which I gladly did."
The first assistant who helps the main transplant surgeon generally is a resident, physician assistant or a nurse. Being a first assist as a medical student was a special experience, Chrumka said. Chrumka worked with Dr. Miguel West, a procurement surgeon with Gift of Life Michigan.
"She was a very good first assistant," Dr. West said. "I could not have performed the procedure without her help."
Chrumka said it was an honor to be asked to help on the transplant team as a student.
"It was such an honor and a blessing to be asked to be the first assist – the fact that they gave me that trust and gave me that responsibility," Chrumka said. "I was just very kind of astounded and excited for the opportunity and it was just really great on their part to try to give me that experience."
Chrumka said she wants to pursue orthopedic surgery after she graduates from the medical school in May 2020, but said the transplant surgery is something that greatly appealed to her and gave her a different appreciation for anatomy and life. 
"I will jump at any opportunity to get into the operating room but a lot of the times Gift of Life gets involved after it's already established that this person isn't going to make it," Chrumka said. "It was such a cool experience that I was part of the team that got to take a death and make something good out of it."
The surgeon recovered the deceased donor's liver and both kidneys, which will go to three people in need of those organs.
"It's a truly life-saving procedure for whoever it goes on to help," Chrumka said.