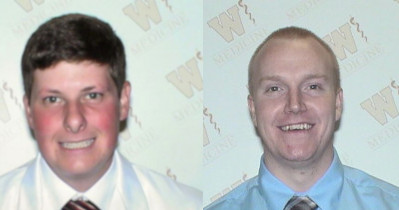 It only took William Petro a short time working in the business office of a steel mill to realize he needed a career that felt more fulfilling. 
After working for three years at a steel mill in Northwest Indiana, Petro decided to take a chance on medical school at WMed.
"I felt like it wasn't motivating me to give everything that I had, that there was a piece missing that I thought medicine could provide," Petro said. 
So far, Petro said, that leap of faith has paid off. Petro has been recognized as the top student in the medical school's Class of 2020 by being honored with the James R. Ryan Family Foundation Scholarship. This is the second year Petro has been awarded the scholarship; he also received it as a third-year student in the 2018-2019 academic year.
A scholarship committee assesses students based on academic record and volunteer work. 
"It was an honor to have been considered for this award and it is generous of the Ryan family to fund the creation of this scholarship," Petro said. "I think it is a good reward for the work I have put in during my years in medical school thus far."
Petro said he has used the award to pay for expenses as he interviews for an internal medicine residency. 
"I'm very thankful to the Ryan family and all the people in Kalamazoo who have donated money, time and resources to help the medical school succeed and to help the students," Petro said. "It all helps, even if it's not directly connected to the things we're learning."
In addition to Petro, third-year student Lucas Rich also received the scholarship as the top student in the Class of 2021.
The James R. Ryan Family Foundation Scholarship, a $3,000 award, is given annually at WMed to the top-ranked rising third-year student at the conclusion of their second year, as well as the top-ranked rising fourth-year student at the conclusion of third-year clerkships. WMed students do not apply for the merit-based scholarship.
Dr. Thomas and Mrs. Debra Ryan have made significant financial contributions to the medical school since 2012 through the James R. Ryan Family Foundation. Their donations have led to endowments for the annual scholarship, as well as for the Curtis M. Hanson M.D. and E. Dennis Lyne M.D. visiting professorships. 
The namesake of the foundation is Dr. James R. Ryan, Dr. Thomas Ryan's uncle, who was an alumnus of Western Michigan University and an accomplished orthopaedic surgeon. Dr. James R. Ryan taught at the Michigan State University Kalamazoo Center for Medical Studies, a predecessor to WMed, and dedicated his entire life to teaching and helping orthopaedic surgery residents.
Dr. Thomas Ryan and Debra Ryan are both Kalamazoo natives who attended Comstock High School before graduating from WMU. Dr. Ryan completed his residency in orthopaedic surgery at the Southwest Michigan Area Health Education Center, also a predecessor of WMed. He works as an orthopaedic surgeon in Kalamazoo.
In addition to his work as an orthopaedic surgeon, Dr. Ryan is a clinical assistant professor for orthopaedic surgery at the medical school. He also serves as councilor for the WMed Academic Honor Society.
Rich, the recipient of the scholarship in WMed's Class of 2021, said he will use the scholarship for test preparation resources. 
Rich said he decided to go to medical school instead of his planned career of physical therapy after taking a fascinating pathology class in undergrad at Oakland University. He said he plans to pursue internal medicine.
Rich said he was "shocked" and didn't expect to be the one awarded the scholarship and therefore, be recognized as the top student in his class. 
"The financial aspect is very helpful to students, but I think the act of giving inspires students to reflect on themselves and think of future opportunities to give back to the community, and when we're physicians, opportunities to give back to students who are in our shoes," Rich said.