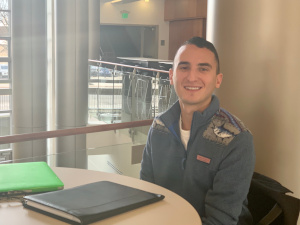 An interest in public health Dan Ferman discovered in undergrad at the University of Michigan has developed into a program that allows other medical school students to effect change in Kalamazoo and around the globe.
Ferman, an M4, started the Public Health Interest Group upon arriving at the medical school. The interest group became the Global and Public Health Distinction Program in spring of 2019.
The program, which has about 40 students enrolled, collaborates with local community organizations including Mothers of Hope, The Resilience/Trauma Network, Kalamazoo County Opioid Coalition, and CRADLE Kalamazoo. Students have hosted advocacy campaigns for public health efforts on topics including nutrition, education, rural health, water safety, the Great Lakes Restoration Initiative, Medicare and Medicaid. They also have spoken to local representatives and have successfully helped resolutions pass in medical societies at the state and national levels on topics including water affordability, HIV criminal laws, decriminalization of homelessness and implicit bias in medical education, Ferman said. 
The Global and Public Health Distinction Program is an elective co-curricular longitudinal program – students can enroll at any time and will remain in the program throughout medical school. Students can tailor their own education and can focus on global or public health.
"It's my passion," Ferman said of the program. "We're all here because we want to treat individuals and go into medicine but I've thought for many years now medicine and public health go hand in hand."
Students can choose any five of seven options, including a global health equity project and a public health project with medical school faculty advisors to better the health of people in the Kalamazoo area. First and second-year students can choose from a Social Determinants of Health Elective with Cheryl Dickson, MD, MPH, the medical school's Associate Dean Health Equity and Community Affairs, and a global health elective with Priscilla Woodhams, MD, assistant professor of pediatrics. 
Students must create a deliverable as part of their work, and in the past have created pamphlets and educational materials, changed the way local doctors ask about health history, like trauma in children, and presented at the medical school's Health Equity Summit.
M3 students Pooja Avula and Brinda Ryali piloted a program in India where students conducted cancer screenings and breast and cervical exams. More students plan to attend a second trip in spring of 2020, Ferman said. 
"The whole goal has been to recognize students who are already passionate about this work and have done it in the past," Ferman said. "Now the goal is to get the students who have the same passion, to give them a more well-defined path to establish these goals."
Dr. Dickson said students in the health equity elective also worked as part of the Student Physician Engagement Clinic at Holy Family Health Care in Hartford. Students there work at a clinic that provides healthcare for migrant workers, and those students have presented their work at the Latino Medical Student Association Conference, she said.
Students in the program also have conducted screenings for pre-diabetes, blood pressure and Chronic Obstructive Pulmonary Disease in the Kalamazoo community, Dr. Dickson said.
"I've seen that students who participate in this elective have really grown in their awareness and their commitment," Dr. Dickson said. 
Ferman, a metro Detroit native, will graduate from the medical school in spring and begin a general surgery internship with the U.S. Navy at the Naval Medical Center in Portsmouth, Virginia. Ferman said what he loves about the Global and Public Health Distinction Program is that it will leave a legacy that will grow with future students.
"I'd like it to be well recognized and ultimately I'd love to see applicants come to WMed for this program," Ferman said.