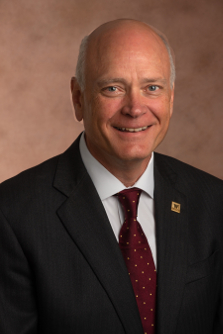 When the clinical practice of WMed officially became known by a new name – WMed Health – on January 1, the change represented more than just a simple renaming or rebranding.
Instead, it is a fresh reminder of the commitment by WMed's clinical services to provide outstanding patient care, Dr. Hal B. Jenson, the medical school's founding dean, said. After all, the medical school's mission to teach and train outstanding students and resident physicians is founded on that commitment, he said.
"We can't train medical students and residents how to practice great medicine without our physicians practicing great medicine," Dr. Jenson said. "That's really the essence of what WMed Health is built around."
Historically, WMed's clinical services provided an important safety net for Kalamazoo residents, especially underserved segments of the community. However, over the last decade, the Affordable Care Act helped grow the number of healthcare options available to many residents.
"Our patients don't come to our clinics now because we are their only option," Dr. Jenson said. "Our patients come to our clinics because we are their best option." 
Indeed, WMed Health primary care services – Family Medicine, Internal Medicine, Medicine-Pediatrics and Pediatrics – have the distinction of Patient-Centered Medical Home designation by Blue Cross Blue Shield. This model of care emphasizes care coordination to best meet the needs of patients and their families. Additionally, WMed Health is accredited and maintains The Joint Commission's Gold Seal of Approval™.
WMed Health has more than 330 providers and, as a teaching organization, offers a team approach to comprehensive, patient-centered primary care and specialty services at several locations throughout Southwest Michigan. Those locations include 1000 Oakland Drive and 1717 Shaffer Street in Kalamazoo, and 670 Mall Drive in Portage. In addition, WMed Health care teams see patients at the Family Health Center at 117 W. Paterson Street in Kalamazoo and Grace Health at 181 West Emmett Street in Battle Creek. New this year, WMed opened the Positive Living Clinic at 629 Pioneer Street in Kalamazoo in collaboration with Community AIDS Resource and Education Services of Southwest Michigan.
Depending on a patient's needs, a care team at WMed Health may include resident physicians who are seeking advanced training, experienced faculty physicians, advanced practice providers, nurses, ancillary services staff, medical students and other learners. 
"Our approach to medical education is that medicine is best practiced as a team," Dr. Jenson said. "So, we are patient-focused and team-based."
Dr. Jenson said WMed Health is unique among providers in the region because of the plethora of subspecialty services, such as infectious diseases, geriatrics, pediatric cleft lip and palate care, pediatric endocrinology and diabetes, and pediatric multiple disabilities care, among many others.
"That environment of providing outstanding patient care in an innovative setting really makes us effective in teaching and training medical students and residents for the future," Dr. Jenson said.