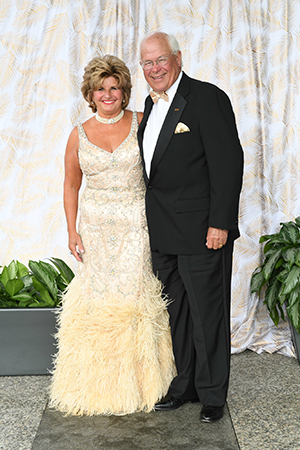 During the past four years the WMed Imagine Gala has been one of the landmark philanthropy events in Kalamazoo. The gathering has been a wonderful opportunity for community leaders and friends of Western Michigan University Homer Stryker M.D. School of Medicine to gather for an evening of fun, fellowship, and philanthropy to raise funds to support the mission of the medical school.
The sweeping impact of the COVID-19 pandemic has caused special events from coast to coast to be cancelled. Rather than cancelling the 2020 WMed Imagine Gala, which was scheduled for May 16, 2020, the co-chairs of this year's event, Bill and Barbara Parfet, and members of our gala planning committee have decided to transition this year's event into a Non-Gala, Gala. This means there will not physically be a gala gathering but WMed donors, corporate partners, and friends can still support the mission of WMed. Proceeds from this year's Non-Gala, Gala will now support our pipeline programs, as in previous years, and also the WMed COVID-19 Response Fund that WMed will direct to priority needs.
Bill Parfet, co-chair of the Imagine Gala shared, "The COVID-19 outbreak is a powerful example of just how important it is for us to support the education of future physicians and to provide for the medical well-being of residents in Kalamazoo and Southwest Michigan. This is an opportunity to support WMed community health initiatives to help provide adequate patient care to our region through this crisis."
WMed friends and donors are being invited to donate to this year's fundraiser to help support the WMed COVID-19 Response Fund, which will assist WMed in responding to patient care needs in our region and a wide array of COVID-19 related costs and services. Donations will help with items such as the purchase medical supplies and personal protective equipment, telehealth equipment, and laptops to enable staff to work remotely from home. It is anticipated that additional personnel costs will be incurred to help meet the needs of patients in anticipation of a surge of the virus in the coming weeks. The co-chairs of the Gala have committed $150,000 as a challenge incentive fund to encourage WMed friends to contribute to the Non-Gala, Gala. All gifts this year will be matched on a one-to-three basis. So a donor making a $750 tax-deductible gift will be recognized by the medical school as a donor at the $1,000 level. All gifts will be matched through the end of the fiscal year or until the full amount of the matching fund is subscribed.
Donations to the Non-Gala Gala can be made via check, credit card, donation of stock, gifts from donor advised funds, and rollover IRAs.
To make a gift or to get more information on the new format for this year's Non-Gala, Gala please visit http://med.wmich.edu/gala or contact Courtney Arnold, Imagine Gala Coordinator, at 269.337.4370 or courtney.arnold@med.wmich.edu. Checks may be made payable to WMU Homer Stryker M.D. School of Medicine, and mailed directly to Courtney Arnold at WMU Homer Stryker M.D. School of Medicine, 1000 Oakland Drive, Kalamazoo, MI 49008. All gifts are tax deductible to the full extent provided by law.
Please help the medical school assist in meeting the challenges of this pandemic in our region. Take advantage of our generous benefactors' matching gift fund to increase the impact of your gift. All gifts made by June 30, 2020 will be matched on a one-to-three basis or until the matching fund is fully subscribed.